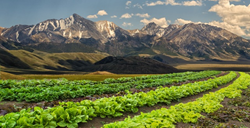 Belle Starr and Bill McDorman are two of the most talented, creative, professional, and administratively well-organized people that I know. I always leap at the chance to work with them... - Toby Hemenway, Gaia's Garden
Rocky Mountain West (PRWEB) June 17, 2014
The project, located initially in Ketchum, Idaho, will help train and support a regional network of community-based "seed stewards" to grow, store and distribute seeds for a wide variety of edible vegetables, grains, herbs, native wildflowers and grasses.
The kick-off celebration for the Rocky Mountain Seed Alliance will be held on Thursday, July 10th at the NexStage Theater in Ketchum starting with a 6 pm reception. At 7:15 pm, RMSA will screen the new documentary Open Sesame, the Story of Seeds. This poignant film explores the national and international issues surrounding seeds and features Mr. McDorman and Ms. Starr and their acclaimed Seed School educational program. A Q&A hosted by RMSA will immediately follow the screening. The welcoming reception is free to the public, tickets for the film screening will be $10, and available at the reception or online at http://www.RockyMountainSeeds.org.
People everywhere are realizing the need for regional solutions in order to build and support resilient food systems. All food systems depend upon seeds. The mission of RMSA is to help connect and build an alliance of seed growers, distributors, educators and advocates throughout the region to assure an abundant and diverse supply of seeds for gardens, farms and restoration projects through out the Rocky Mountains.
Initially, RMSA will conduct a series of one-day Seed School workshops throughout the region to begin the process of identifying seed savers, seed programs, seed growers and wild seed collectors in the Rocky Mountains. Local seed stewards will be identified and empowered to help set up a network of community seed banks. The goal is to inventory seeds from around the Rocky Mountain region so a back-up copy can be collected eventually for safekeeping at secure locations in the region using international standards as is being done in countries around the World.
The organization will partner with the Sawtooth Botanical Garden (SBG), which will house RMSA's primary collection of regional seeds. Other collaborative projects will include seed trials and testing on the SBG grounds, as well as seed saving educational programs and workshops.
In the words of Idaho's Bounty co-founder and Onsen Farm owner James Reed: "We need seed from our own region rather than depending on growers thousands of miles away. I am excited by what the Rocky Mountain Seed Alliance will do to help organize and support local food producers like myself."
"Belle Starr and Bill McDorman are two of the most talented, creative, professional, and administratively well-organized people that I know. I always leap at the chance to work with them, as their projects, whether they be a business, a school, or turning around an organization in need of help, are consistently well-managed, successful, and inspiring to be around. I am grateful for their achievements and expertise, and fully support their new venture, without reservation." Toby Hemenway, author of Gaia's Garden: A Guide to Home-Scale Permaculture
Bill McDorman and his wife Belle Starr join RMSA after serving for three years as co-directors of the internationally-recognized seed conservation nonprofit Native Seeds/SEARCH, Tucson, Arizona. During their tenure they developed acclaimed educational initiatives and nurtured the organization to financial and programmatic health.
Mr. McDorman, a Sun Valley native, has been intimately involved in the world of seeds for more than 30 years. He helped found several seed companies including Garden City Seeds in Missoula, Montana; High Altitude Gardens in Ketchum, Idaho; and Seeds Trust in Cornville, Arizona. He also developed the International Seed Saving Institute, still utilized as a source for basic seed saving information. Mr. McDorman is also a co-founder of the Sawtooth Botanical Garden in Ketchum, Idaho.
Belle Starr has a background in media, public relations, community organizing and nonprofit management. She was co-producer of the seminal sustainability festival SolFest in Northern California for 7 years, and in the early 90s she produced and hosted the nationally syndicated environmental radio feature, the Environmental Action Report.
John Caccia is an accomplished silversmith and owner of the Golden Door Gallery in Ketchum. Mr. Caccia, an avid gardener and long time environmental activist, is a 2010 graduate of Mr. McDorman and Ms. Starr's Seed School program. He serves as manager of the newly formed Wood River Seed Library and is co-founder of the Rocky Mountain Seed Alliance.
For more information, contact Belle Starr – belle(at)rockymountainseeds(dot)org, 928.300.7989.