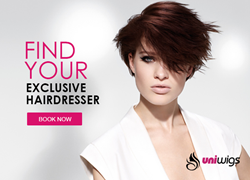 UniWigs Local Salon Service in CA
(PRWEB) June 13, 2014
UniWigs, a leading wigs (along with hair extensions and hair pieces) online retailer, developed its first franchised salon for it's salon program, Salon Syndicate, located in prestigious Encino, CA. There will be a great convenience for its CA customers to enjoy service locally from now on!
With almost 3 years of online dealing with hair products, UniWigs is always trying to find a way to appeal to customers in person experiences of their products. And they come out a great project-- salon program, which is to work with salons, where customers can enjoy a lot of value-added services apart from simply buying wigs or extensions, at affordable prices! Most importantly, as very delicate and personalized products, wigs becoming customizable is essential to most customers, therefore, UniWigs chooses to work with salons.
As a leading trendsetting boutique salon in one of Southern California's most affluent communities, Salon Syndicate has made the right choice to work with the leading wigs brand UniWigs. Wig lovers in prestigious Encino who loves UniWigs hair products will be excited to know this breaking news. Ready-to-wear, semi-finished and custom-made wigs are all available on Uniwigs.com and in Salon Syndicate and people can get the instant services such as expert customization, washing, restoration, and servicing locally. This in person experience would bring a win-win chance for both of them.
To celebrate this grand alliance and to encourage local customers to experience in person, UniWigs and Salon Syndicate offers two coupons to save when they enjoy hair services locally at Salon Syndicate!
About UniWigs:
Uniwigs.com offers a variety of wigs as well as hair products. Online customers can find lace front wigs, full lace wigs, clip-in hair extensions, braids and hair pieces at uniwigs.com. With a professional hair stylist team and celebrity hair styles, Uniwigs has become a well- known brand broadly recommended by hundreds of web gurus and customers.