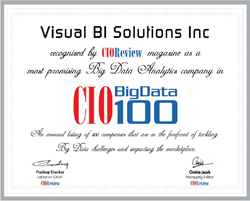 . . . one of the nation's fastest-growing firms focused exclusively on providing business intelligence and analytics solutions.
Plano, Texas (PRWEB) June 23, 2014
Visual BI solutions has been featured in the CIO Review's 100 Most Promising Big Data Companies. This annual list is selected by a distinguished panel comprising of CEOs, CIOs, VCs, industry analysts and the editorial board. CIO Review emphasizes on Visual BI's growth, noting, "...one of the nation's fastest-growing firms focused exclusively on providing business intelligence and analytics solutions."
Visual BI offers comprehensive and strategic business solutions, driven by technology innovation and industry expertise. Based in Plano, Texas, Visual BI utilizes KPI-driven, high performance architecture that is agile, mobile and intuitive. Visual BI's solutions enable a company-wide single version of truth, resulting in an organization fully aligned at all levels in their corporate goals and objectives - a massive competitive advantage.
Visual BI offers comprehensive, end-to-end BI services, including real-time BI, self-service BI, mobile BI, and decision analytics. Service offerings encompass industry and domain-specific solutions, custom visualization controls (SAP Dashboards and SAP Design Studio), and cloud-based analytics. Visual BI specialties include SAP BI/BW, SAP Business Objects, SAP HANA and SAP BPC, and visualization tools such as SAP Dashboards, SAP Lumira, Tableau, TIBCO Spotfire, and others.
CIO Review has highlighted the fact that the CEO and Founder of Visual BI, Gopal Krishnamurthy, had recognized the failings inherent in many of the BI tools on the market. "We find out what the users want and need; how they want their data to be sliced, diced and displayed. Whatever they want, whatever they need - we have the innovative drive and the technical expertise to make that happen. That's how we create solutions that enable each client company to realize the greatest possible ROI from their BI investment."
CIO Review promises the future looks bright for Visual BI, quoting: "Their client list provides confirmation that Visual BI's mix of customized services and best-in-class industry solutions hits the sweet spot in meeting the BI needs of today's companies."
Read the Visual BI featured article in the May 2014 issue of CIO Review magazine: http://www.cioreview.com//company/visual-bi-executives-empowered-with-agile-and-visually-intuitive-data-for-actionable-intelligence-cid-685-rntid-1.html.
For more information about Visual BI Solutions, visit: http://www.visualbi.com/.