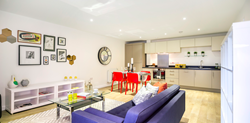 London (PRWEB UK) 14 June 2014
Fizzy, a subsidiary of the Abu Dhabi Investment Authority and Thames Valley Housing, teamed up with TwoBlue Communications and the incredibly talented motion animator, Yaw Boadi, to create its newest video.
Fizzy On Demand stars a young professional called Sophie who is at her desk browsing her tablet. She is watching a video (#GetFizzy) when the question "What kind of flats do you want to rent?" comes up. To answer the question, she interacts with the tablet interface and describes all her specifications and requirements. 3D popping balconies, killer red heels, flying 'Bobs' and a retro Pacman-esque game later, the interface finds only one search result.
The new Fizzy On Demand video features incredible graphics and perfectly blurs the line between animation and reality. It's a must-watch.