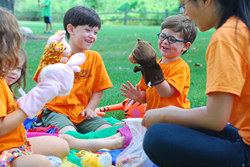 Chicago, IL (PRWEB) June 13, 2014
WHAT: Language Stars, the national leader in early childhood foreign language education with locations throughout the Chicago and Washington DC metropolitan areas, is offering 40% off summer tuition for new families.
For a discounted price, new families will have the opportunity to participate in foreign language summer camps and classes for kids in Spanish, French, Mandarin, Italian (in Chicago area only) and German, and Arabic (in DC area only) taught by native-speaking teachers from around the globe. Children will be immersed in language, culture, and pure fun!
ABOUT THE SUMMER CAMPS: Foreign language summer camps provide an opportunity for increased language exposure through a variety of fun and engaging outdoor and indoor activities. Spontaneous interactions and supportive games allow children to build their foreign language vocabularies the way a native would.
Indoor bingo tournaments bring out their natural ability to communicate what numbers, animals, or foods they have or don't have on their game boards. Making snow cones facilitates conversation around colors, flavors, and expressions of what they do and don't like. Summer campers have such a blast that they often forget that they are experiencing it in another language!
WHY: The offer is designed to provide new families with the opportunity to try the Language Stars FumImmersion program for the summer at a lower cost.
WHERE: All Language Stars locations in the Chicago and DC metro areas. There are 12 locations throughout Chicagoland and 6 locations in the DC metro area including locations in Northern Virginia and Maryland. For more information on locations visit http://www.Languagestars.com/locations.
WHO: Families who are new to Language Stars will receive 40% off summer tuition for Summer 2014 Program.
SUMMER 2014 THEMES:
Check out more information on the exciting Summer Themes here.

Ice Cream Factory: June 16-22
Shark Week: June 23-29
Angry Birds: June 30-July 6
Hawaiian Adventure: July 7 – 13
Super Sleuths: July 14-20
Mad Scientists: July 21-27
Super Hero Training: July 28-August 3
Under the Big Top: August 4-10
Summer Olympics: August 11-17
The Amazing Race: August 18-24
RSVP: To inquire about foreign language summer programs for your child or for a free trial class, complete the request form or call us at 866-55-STARS (866-557-8277).
About Language Stars
Language Stars, the national leader in early childhood foreign language education, teaches foreign language classes for kids between the ages of 1 and 10 years old focusing on the window of opportunity between birth and 10 years of age when a child's brain is hardwired to learn any language naturally and easily. Their mission is to change how and when children learn a foreign language to foster a new generation of multi-lingual Americans. Language Stars has 18 locations in the Chicago and Washington D.C. metro areas and is in over 150 public, private and parochial schools, including preschools, elementary schools and middle schools. Language Stars currently reaches over 10,000 toddlers, preschoolers, and elementary students each week, helping them move toward proficiency in a foreign language, build cognitive skills and become sensitive to new cultures. For more information, visit http://www.languagestars.com.