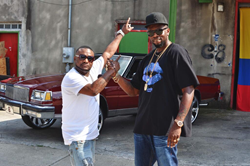 Six9 & Shawty Lo!
Birmingham, Alabama (PRWEB) June 16, 2014
On June 15th well known recording artist Shawty Lo and Six9 were spotted performing together in Birmingham Alabama. Artists that comprise the D4L record label where also seen in the parking lot of the concert preparing to enter the building. Texas producer Flomaticc was filming the event at the request of Six9 and Shawty Lo. You can watch the video by visiting http://www.six9music.com.
The concert was literally shoulder-to-shoulder as die-hard Shawty Lo fans awaited his appearance on stage, but before he would perform, The South Carolina Artist Six9 was scheduled to open up the show. Six9's performance grabbed the attention of many spectators in the crowd. You could hear people saying, "Six9 come take a picture with me!" "I heard of that Six9 guy!". Many people in the crowd cheered and danced to Six9's performance. Once Six9 had completed his performance Shawty Lo stepped on to the stage and the crowd cheered loudly. The cheering was aggressive and almost deafening. Shawty Lo played all his popular songs from "Dey know" to "foolish" and even some brand new tracks in collaboration with his record label artists. Six9 and Shawty Lo have also collaborated on a song titled "Columbia" Produced by Flomaticc, which is available on itunes.com. You can also see the official music video for "Columbia" by visiting Six9's youtube channel.
Six9 is a South Carolina recording artist best known for His songs "Columbia" featuring Shawty Lo Produced by Flomaticc and "Black" Featuring 2Chainz Produced by Flomaticc. Six9 debuted his mixtape titled "SIX" and music video titled "Boomerang" Produced by Metro Boomin on worldstarhiphop.com and datpiff.com. The mixtape attracted attention to the unsigned South Carolina artist due to his seemingly out of nowhere arrival. He also managed to reach three million views within the first two hours of being released on WSHH. His affiliation with known celebrities has also produced a buzz throughout the Internet. Six9 has been featured on more than 1000 websites & Music Blogs since his release, including popular websites like Foxcarolina.com, Walb.com, Katv.com, Kcbd.com and many other websites.
Six9's music is also available for purchase in over 50 stores worldwide. For more information visit http://www.six9music.com.