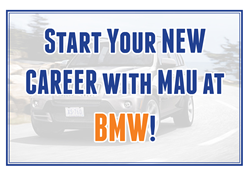 Anderson, SC (PRWEB) June 13, 2014
MAU Workforce Solutions will be hosting a job fair in Anderson on Monday, June 16 from 9:00AM-4:00PM to hire both Production Associates and Forklift Operators with MAU at BMW. This event will take place at Hilton Garden Inn located at 115 Destination Blvd., Anderson, SC 29625.
Interested applicants are encouraged to apply online prior to arriving at the job fair and must submit to a background check and drug screen. Walk-ins are also welcome.
Positions Available with MAU at BMW Manufacturing:
Position Benefits:
$15-$16/hour
BlueCross BlueShield (Major medical, dental, and vision benefits)
60 Hours of Paid Vacation
Up to 13 Paid Holidays
401K & Life Insurance
Visit http://www.mau.com/bmwjobs for more information or to apply.
Please note: applicants must have one year of stable work history.
Monday, June 16, 2014, 9:00am-4:00pm:
Hilton Garden Inn
115 Destination Blvd.
Anderson, SC 29625
MAU Workforce Solutions staffs excellent, effective people for their partners, allowing them to focus on their core competencies. Headquartered in Augusta, GA since 1973, MAU is a family-owned, minority company making lives better for applicants, clients, and employees through innovative workforce solutions. Today, with Branch and vendor on premise locations across the South and recruiting partners worldwide, MAU has global capabilities to help with all staffing, recruiting, and outsourcing needs.