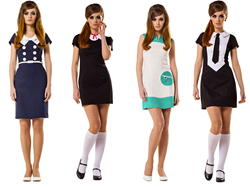 Online retailer Atom Retro are set to spread some love this Summer with Marmalade dresses arriving in store.
Scarborough, North Yorkshire (PRWEB UK) 18 June 2014
Online retailer Atom Retro are set to spread some love this Summer with Marmalade mod dresses arriving in store.
Space age 1960s fashions fused with intricate contemporary twists are what really set the latest range of Marmalade garments apart. Bold colour block details, clever use of buttons and trims elegantly paired with Marmalade's tried and tested fitted mini dress block.
Atom Retro buyer, Lindsey Hagston says, "Magdalena Sokolowska's Marmalade brand has gone from strength to strength at Atom Retro. We've been stocking then for quite some time. There's always a real 1960s Mod look about the dresses, but as each season goes by the range gets even more exciting. Fabulous fabrics, attention to detail and designs that offer something that little bit different from the norm."
This season's new styles include a move on from last season's best selling circle pocket dress with linen colour block combination and Vintage zipper detail.
The delightful scallop collar dress with retro ribbon bow is surely this season's little black dress! There's also a neat black tie number, with the black fitted mini dress paired with gorgeous big collar and white shirting effect bib. Other fab new styles include the circle pocket linen jacket to match the aforementioned circle pocket dress and a Courreges/Cardin inspired space age, curved panel 2-tone dress with gorgeous button detail.
Marmalade dresses are perfect for both daytime and evening wear. Flattering silhouettes enhance the distinctive designs adding real Retro appeal.
Marmalade designer, Magdalena Sokolowska recently gave an interview in Atom Retro's house magazine, Up&Atom. Lindsey says, "It's no secret that Marmalade dresses are steeped in 1960s nostalgia and mod culture given designer Magdalena's affinity with the era. Magda kindly contributed to the latest edition of our magazine Up&Atom in which she describes her inspiration and influences and it's clear her love of all things 1960s play a big part in her life."
About Atom Retro:
Atom Retro is a UK leading clothing retailer, boasting the largest range of authentic, high quality retro and mod clothing for men and women online. The Atom Retro range is inspired by the Carnaby Street boutiques of the sixties and includes an ever growing list of iconic brands and original, independent designers. Browse Atom Retro's extensive range of retro and mod clothing at http://www.atomretro.com.