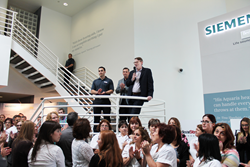 By uniting our voices, we can stem the flow of commoditization in this healthcare field. -- Clifford Carey, communications director of EarQ
Syracuse, NY (PRWEB) June 16, 2014
At a time of great change in the hearing healthcare industry, EarQ and its technology partners, Oticon, Siemens and Starkey, recently held exclusive events for EarQ members to discuss the state of the industry and plan the best way forward for independent practice owners utilizing the most advanced programs and technology available today.
Held at each manufacturer's domestic headquarters, Somerset, NJ, Piscataway, NJ, and Eden Prairie, MN, respectively, the events allowed independent hearing healthcare providers to participate in open dialogues with EarQ and manufacturer executives about the recent pushes toward commoditization of hearing devices in the wholesale market and its effects on their patients.
"The move by some manufacturers toward commoditizing their medical devices and distributing through wholesale retailers could lead to the dilution of the manufacturer's quality standards and, more importantly, the level of service required to fit those sophisticated devices," said Clifford Carey, communications director of EarQ. "By uniting our voices, we can stem the flow of commoditization in this healthcare field."
The group also learned about EarQ's cutting-edge patient-focused programs and received hands-on training with each manufacturer's latest technology.
During the events, the EarQ team, through its not-for-profit organization, the HearStrong Foundation, also celebrated several unforgettable HearStrong Champions, figure skater Danielle Fanelle, New Jersey hearing aid legislation inspiration Grace Gleba, and educator Sara Lundquist.
About EarQ:
EarQ strives to revolutionize the hearing healthcare industry through innovative business and marketing practices, national public awareness efforts and advocating for excellence in private patient care. Through its nationwide hearing healthcare providers, EarQ will shatter the stereotypes surrounding hearing loss and empower the millions of Americans who experience it to take control of their hearing health.
http://www.earq.com
Like us on Facebook
Follow us on Twitter