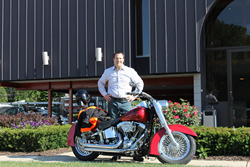 Whether or not you plan to ride to work on Monday, June 16, please take a moment to help spread the word about this event and remind drivers to always Watch for Motorcycles.
Detroit, MI (PRWEB) June 13, 2014
Attorney Jason Waechter, The Motorcycle Lawyer, plans to start next week right by riding his motorcycle to work in observance of International Ride to Work Day. This special day was first celebrated in 1992, according to ridetowork.org. It was founded after a column in Motorcycle Consumer News (formerly Road Rider Magazine) suggested that on one designated day each year, every motorcyclist should take his bike in to work. The hope was that having so many motorcycles on the road at the same time on a weekday would help raise awareness among car and truck drivers and increase biker safety. International Ride to Work Day is recognized in Canada, Ecuador, France, Germany, Great Britain, Israel, Mexico, the Philippines, Puerto Rico, Turkey, and Russia.
Over the last twenty years, Waechter has made significant contributions to motorcycle awareness and safety campaigns. He fully supports participation in International Ride to Work Day. "Many of us ride to work on a regular basis," says Waechter. "But having a designated day brings out motorcyclists in much higher numbers, and has the potential to contribute to motorcycle awareness among motor vehicle drivers."
Waechter always encourages motorcyclists and their families to get involved in motorcycle safety and awareness campaigns. His Watch for Motorcycles bumper stickers are available for free on his website, http://www.themotorcyclelawyer.com, and represent a simple way to remind drivers on the road that motorcycles are everywhere. "Now with social media, spreading the word is even easier," says Waechter. "If you or someone you care about will be riding to work on Monday, June 16, tell all your friends. Remind them to Watch for Motorcycles every day, and help save lives." You can also follow Waechter and his team on Facebook or Twitter to get motorcycling tips, news, and updates this International Ride to Work Day and beyond.
####
Attorney Jason Waechter has spent two decades cementing his reputation for results. Over the years, he has specialized his practice to motorcycle accidents. Jason has fought tirelessly for accident injury victims and contributed significantly to safety education and accident prevention. He has entrenched himself as one of the nation's premier lawyers. If you or a loved one has been injured in an accident, call 1-800-708-5433 to speak with a lawyer who can help.