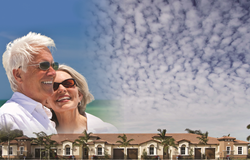 Delray Beach, FL (PRWEB) June 13, 2014
This week marks exciting times at Villaggio Reserve. The first wave of buyers will begin closing on and moving into their homes in Delray Beach's most exciting 55-plus, resort-style community.
The San Marco neighborhood is coming alive with homeowners who have waited, watched and worked with developer Ansca Homes as their homes have come to completion. Now, right on schedule, they're receiving the keys to their new homes and crossing the threshold to a whole new lifestyle.
"Ask any homebuyer and they'll tell you there's little more exciting in life than closing on your newly built residence," said Ron Yuter, Senior Vice President with Ansca Homes. Models at Villaggio Reserve are priced from $280,000 to the $400,000s. "Moving into a new home is a special time – one made remarkably so at Villaggio Reserve."
From the homes to the neighborhoods to the amenities, Villaggio Reserve was envisioned as an extraordinary enclave in the heart of Delray Beach. It begins with the first glimpse of the breathtaking Grand Gatehouse entrance off Hagen Ranch Road at Atlantic Avenue, with its paver stone path and brick-and-stone façade surrounded by lush landscaping. As residents drive along the winding, European boulevard, they'll pass the site of the future Cabana Club clubhouse.
It's here at the 38,000-square-foot town square that residents will dine daily, enjoy a variety of indoor activities, exercise in the fully-equipped gym or the lighted tennis and pickleball courts, or relax poolside beneath the namesake cabanas.
Once they pull into their driveways and into their garage, the new neighbors will know they've arrived someplace special. Architected in striking Spanish-Italian styling, the homes at Villaggio Reserve offer a variety of standard and upgraded amenities that will elevate every homeowner's standard of living.
Standard amenities include granite counters, Kitchen Craft Cabinetry®, energy efficient, stainless steel GE® appliances, high-efficiency Carrier air conditioners, and hurricane impact-resistant windows, doors and garage doors for hassle-free peace of mind.
Want to find residents on a calm summer's day or a cool winter's night? They'll likely be on the patio enjoying the breeze coming off the Atlantic just a few miles to the east. They'll find all of this and more in their new Villaggio Reserve home.
Discover why these first buyers chose Villaggio Reserve. Visit http://www.VillaggioReserve.com or call today at (855) 230-0998. Drop by the Sales Center and Model Row from 9:30 a.m. to 5:30 p.m. Monday through Sunday.
About the company:
Villaggio Reserve is a premier community from Ansca Homes. Ansca Homes has grown into a leading Florida home builder proudly led by the experience of Angelo Scardina; his son Charles Scardina, president of the company; his son-in-law Ramsey Akel, vice-president; and his grandson Charles Scardina Jr., representing the next generation. With the vision and resources to continue to create homes and new home communities that feature uncompromising excellence and attention to detail, Ansca Homes continues to lead the way.
The success of Ansca Homes has always been achieved by adhering to basic principles: create the best and the most lifestyle-enhancing homes in both active adult and family communities; build homes of superior quality that provide unsurpassed value and comfort for its customers; and operate the privately-held family business ethically, astutely and insightfully.