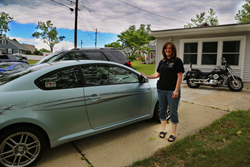 About her deployment to the Persian Gulf to launch Operation Iraqi Freedom: "I was just at legal drinking age, and going away to war. It make you grow up really fast."
Trevost, PA (PRWEB) June 13, 2014
Jacqueline Mastroeni, a 32-year-old U.S. Navy and Navy Reserve veteran of 14 years, has been selected as the winner of CollisionMax's Metal of Honor Award. As a result, CollisionMax of Glassboro, NJ will repair her 2005 Scion TC free of charge.
A resident of Deptford, NJ, Ms. Mastroeni was born and raised in Runnemede, NJ, and enlisted in the Navy's delayed entry program at the age of 17, while a junior at Triton High School. "I always wanted a career in the military," she says. "My father and an uncle served in the Navy, and another uncle was in the Air Force. I was born for service."
In her four years of active duty in the Navy, she served as a boatswain's mate on the U.S.S. Briscoe, a guided missile destroyer at sea for two six-month deployments. The Briscoe was the sister ship of the U.S.S. Cole, which was attacked on October 12, 2000 (Ms. Mastroeni's birthday) by suicide bombers in the port of Aden in Yemen. Seventeen sailors were killed in the attack.
"We were headed to make port in Aden next," she said. "It was a sobering experience to know we were that close to combat." She was also on board the Briscoe when the captain announced the terrorist attacks on the World Trade Center on September 11, 2001. "I'll never forget it," she said. "The whole ship went dead silent. Nobody said a word. It was definitely a very scary thing to deal with at 19 or 20 years of age."
On her second deployment, in March 2003 she was on board the Briscoe when it participated in the "Shock and Awe" attack on Iraq with the launching of 25 cruise missiles at the start of Iraq Operation Freedom. "I was 21 years old, just at legal drinking age, and going away to war. It makes you grow up really fast," she says. "You learn to do your job right the first time and hopefully, at the end of the day, you get to go home to your family."
After that voyage, Ms. Mastroeni was discharged from active service but joined the Navy Reserves "To continue my career. I knew I'd miss the Navy." But that didn't mean the end of service overseas: in 2009 and 2010, she was deployed to Kuwait for 12 months, serving on U.S. Navy patrol craft on port security duty.
Still an active Navy Reservist with the rank of Petty Officer, 2nd Class, she serves with a unit that has been engaged in civil affairs, helping villagers in Kenya drill water wells, build schools and improve their agricultural skills. She spends one weekend a month at the joint Army and Navy base at Ft. Dix, and spends two weeks a year at any location where the Navy needs her. She said she just completed two weeks of training at the Navy base at San Diego, CA.
Ms. Mastroeni was nominated for the Metal of Honor by her husband, Phil, who had heard about it while listening to radio station WMMR-FM. Both of them work full-time as emergency medical technicians. "I smashed my bumper while pulling out of my driveway," she said. "I hadn't heard about the program, but I'm glad my husband did, because I rely on my car to get to work and to my reserve assignments."
It's the second time her car will have been repaired by CollisionMax. Three years ago, it was involved in a front-end collision. "CollisionMax made my car look absolutely beautiful, like nothing had happened to it," she says.
Through its Metal of Honor Project, now in its second year, CollisionMax gives away auto body repairs to US military veterans, one per month for each of its locations in the Delaware Valley. The company selects the winners from nominations it received from the public on the project's web site, http://www.metalofhonorproject.com.
"The Metal of Honor Project is our way of saying thank you and honoring the men and women of our armed forces who put their lives on the line for all of us," said Jim Tornetta, CollisionMax president and CEO.
In New Jersey, CollisionMax operates shops in Blackwood, Cinnaminson, Glassboro, Marlton, Pennsauken, Sicklerville and Westmont. In Pennsylvania, it has repair centers in Oxford Valley, Warminster and two in Northeast Philadelphia (both on West Grant Avenue). For information about CollisionMax, please visit http://www.collisionmax.com.