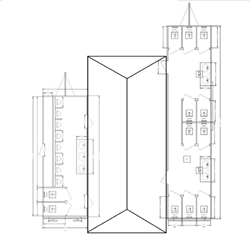 Charlotte, NC (PRWEB) June 16, 2014
John Lane's Ogunquit Playhouse in Ogunquit, Maine has brought theatrical joy within a historical setting to generations for over 83 years. Recently, the playhouse reached out to Portable Restroom Trailers, LLC to provide a facility solution to replace its existing long-term restroom trailer rentals, which although offered adequate portable restrooms for its guests, did not offer the level equity or investment in the equipment that the playhouse's foundation sought.
The theater's particular location in a historical city in Maine with strict limitations on building renovations or alterations, coupled with its overall demographic of mature, aged adults, proved a challenge to find adequate solutions that would both comply with the city's requirements and provide the theater's guests with easily accessible, comfortable, and inviting restroom facilities to a large volume of people, particularly throughout the show's intermissions. The Director of Facilities and Real Estate, Peter Lewis of John Lane's Ogunquit Playhouse, contacted Account Manager, Kate Vega of Portable Restroom Trailers, LLC, to try and find a budget-friendly solution to meet their specific needs.
Fortunately, Portable Restroom Trailers, LLC was able to provide an innovative solution that offered the playhouse a solid investment, of easily accessible portable restrooms that complied with the city's requirements. The playhouse decided to move forward with the purchase of two custom-built, luxury skid units (mobile buildings on a removable chassis) – one for men and the other for women, each offering raised, full flush toilets, hot water hand wash, solid-wood trim, upscale fixtures, and solid, six-panel doors for maximum privacy. Once complete, the two skid unit's entrance and exits will face each other in a mirrored fashion with appropriate tenting and staging between them to offer a private, ambient environment for guests while they wait for the restrooms during the show's intermissions.
The main advantage of selecting two luxury skid units as opposed to the traditional portable restrooms trailer is that they can be positioned to sit at ground-level to avoid the need for exterior stairs and railings that might prove difficult to navigate for the theater's primary demographic. The skid units are also engineered to reduce the possibility of unpleasant odors, sometimes present with on-board waste tanks found within most rental equipment, by temporarily connecting the restroom unit's plumbing directly to the theater's sewer system. Portable Restroom Trailers, LLC worked closely with the factory's design department to match each of the skid unit's utility connections to the theater's existing site to help maximize efficiency and minimize ongoing maintenance requirements.
The luxury mobile skid units are due for completion mid-summer 2014 and will be positioned into place near the theater's main building with the assistance of a temporary crane and harnessing system. Portable Restroom Trailers, LLC will work closely with the theater over the coming months to build out the custom interior finished and systems approved by the Ogunquit Playhouse's board to complete a custom, one-of-a-kind solution sure to impress the theater's guests, while keeping them clean, safe, and comfortable for many years to come. On with the show!
For more information on the portable restrooms delivered to Belmont Park, please contact Portable Restroom Trailers' Operations Manager, Teri Pahon at 330-565-9254 or Teri(at)PortableRestroomTrailers(dot)com.