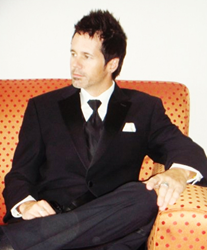 "We are adopting the VIP workflow across our entire organization to leverage our data and its capabilities in helping us offer even higher service levels for our customers."
Holmdel, NJ and Salt Lake City, UT (PRWEB) June 23, 2014
Vantage Production, LLC, a leading innovator in customer relationship management (CRM), marketing, sales and content solutions, announced that SecurityNational Mortgage Company (SNMC) of Salt Lake City, Utah, has selected its Vantage Integrated ProductionSM (VIP) solution to centralize marketing, compliance and sales process management for its national network of retail origination branches.
Like many mortgage lenders, SNMC was concerned about standardizing and controlling messaging for Realtors and consumers to ensure compliance with CFPB requirements, as well as making sure that loan officers were utilizing the best possible materials across the country. SNMC was founded in 1993 as a subsidiary of the Security National Financial Corporation (NASDAQ: SNFCA), which began in 1965 as Security National Life Insurance Company and has invested in mortgage loans for almost 50 years.
"As a company that started from humble beginnings, we have grown and succeeded over the decades by providing very personal service to our customers," says SNMC Chief Marketing Officer Michael Shehan. "It was absolutely essential that we continued to offer the best possible borrower experiences while making certain that SNMC was fully compliant with the new regulations surrounding customer communications. With 80 branches across the country, we turned to Vantage Production to centralize this effort with VIP's content and workflow, vastly improving control and messaging across our network," he says. "Additionally, we offer a broad range of home loans due to our very well established relationships with mortgage investors, so not all of our loan programs are the standard products offered everywhere. We needed flexibility with differentiated program specifics for our sales force, and VIP creates outstanding presentations on every possible loan product," he notes.
"Decentralized marketing is simply no longer a good idea," says Vantage Production CEO Paul Zoukis. "Companies that lack tight control over content and presentation are putting themselves at risk for costly penalties from multiple state and federal agencies, and that is not necessary in this age of advanced automation and cloud delivery," he says. "VIP uses enterprise data for CRM in ways that the mortgage industry has never seen before, and the benefits are powerful for lenders that focus on high service levels, building referrals and improving profitability while controlling costs. Complete tracking and performance metrics provide confidence in compliance efforts and in the ROI of using advanced CRM," Zoukis says.
"Using VIP, we can now measure every aspect of our marketing programs, customer presentations and the benefit from the additional dimensions of Vantage Production's content and services," says SNMC's Shehan. "We are adopting the VIP workflow across our entire organization to leverage our data and its capabilities in helping us offer even higher service levels for our customers."
About Vantage Production
Vantage Production, LLC provides advanced CRM systems, compliant automated marketing and sales solutions, compelling content for the mortgage industry, and professional development programs. With solutions tailored to the requirements of both enterprise lenders and loan officers, Vantage Production provides production support for more than 400 leading lenders and tens of thousands of individual subscribers. For more information, visit http://www.VantageProduction.com.
About SecurityNational Mortgage Company (SNMC)
SecurityNational Mortgage Company (SNMC) is one of the fastest growing subsidiaries of the Security National family, a publicly traded company (SNFCA – NASDAQ). Founded in 1993, SNMC currently operates 80 branch offices across the United States, with headquarters located in Salt Lake City, Utah. SNMC has established relationships with the some of the nation's leading mortgage investors to provide a wide range of residential, rural, business and commercial mortgage loans to the mortgage originators we serve. For more information, visit http://www.SNMC.com.
PRESS CONTACTS:
Jim Hennessy
Strategic Vantage Marketing & Public Relations
JimHennessy@StrategicVantage.com
858.774.0201
Mary McGarity
Strategic Vantage Marketing & Public Relations
MaryMcGarity@StrategicVantage.com
203.513.2721