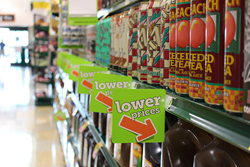 Matthews, N.C. (PRWEB) June 13, 2014
Harris Teeter has been serving customers in the northern Virginia area for over two decades and is proud today to introduce its New Lower Price campaign to shoppers in the northern Virginia, DC, Maryland and Delaware markets, as well as three stores in Charlottesville. This program will reduce prices on thousands of products sold in Harris Teeter locations.
"Over the years, our customers have asked us to lower our prices, and we've listened by introducing various pricing and promotional strategies which drive value to them," said Catherine Becker, communication manager for Harris Teeter. "This new program is the big change our shoppers have been asking for. Through our recent merger, we have achieved better efficiencies and have chosen to re-invest those savings into, among other things, lower prices for our customers."
"This is an exciting time for our company," added Becker. "We're pleased to continue to strengthen our relationship with our shoppers through this New Lower Price program, and we look forward to introducing it in additional markets, as well."
Harris Teeter is lowering the price on popular products including grocery, organic and perishable items. Customers in these markets will soon notice new shelf tags and signage in their Harris Teeter which will highlight those savings. Examples include:

Hot House Tomatoes – now $1.49 per lb., customers save 1.50 per lb.;
Rotisserie Chicken – now $5.99 each ($4.99 on Sundays); customers save $1 each
Harris Teeter will remain focused on delivering excellent customer service and outstanding products to its customers. All other promotional activities offered by the Company including VIC, e-VIC, Super Double Coupons and double manufacturers' coupons up to $0.99 every day will not be impacted by the New Lower Price campaign.