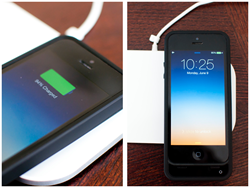 We found that wireless charging and Near Field Communication are a natural fit for an iOS accessory, both technologies are natively absent from iOS devices but also carry a high demand from consumers.
Richardson, TX (PRWEB) June 16, 2014
DeviceFidelity Inc. today announced the world's first combined module for adding multi-mode Wireless Charging and Near Field Communications (NFC) capabilities to iOS devices. The module allows iOS accessory makers to rapidly create products simultaneously supporting both the Power Matters Alliance (PMA) and Wireless Power Consortium (Qi) standards for wireless charging in combination with a certified NFC platform. The module utilizes a SIM as a secure element and provides a robust API, allowing app developers to interface with the NFC and wireless charging functions. The module is designed to ensure a slim form fitting accessory design, while ensuring maximum performance.
"There is a rapidly emerging ecosystem of add-on products that leverage intelligent communications with an iOS app along with adding new functionality never before experienced on iOS devices we like to call Appcessories,"said Deepak Jain, CEO and Co-Founder of DeviceFidelity. "We found that wireless charging and Near Field Communication are a natural fit for an iOS accessory, both technologies are natively absent from iOS devices but also carry a high demand from consumers"
The module will be available this summer to all parties interested in creating smart products for iOS devices. The first consumer accessories based on the module are expected to roll out commercially by the end of the year. The module is self-contained and the only thing that an accessory makers need to do is add their industrial design and combine it with their manufacturing prowess. The module by itself will be certified to be compatible with all NFC requirements, as well as meet the requirements of two of the most popular wireless charging standards, Qi and PMA. In addition, the module will be certified for mobile payment by major payment networks – Visa, MasterCard, American Express and Discover.
The module provides full compatibility with current DeviceFidelity iOS API, allowing for all existing applications created for the DeviceFidelity iOS ecosystem to have forward and backward compatibility. In addition, the move to a SIM based secure element in the architecture allows for full compliance with Mobile Network Operator NFC deployment plans, essentially allowing the reuse of the same SIM for NFC in Android and iOS devices.
The Qi standard by the Wireless Power Consortium allow for the inductive electrical power transfer over distances of up to 4 cm, and is backed by companies such as Texas Instruments, Phillips, Nokia, Sanyo, Huawei and Visteon (formerly Ford). The Powermat standard by Power Matters Alliance promotes inductive and resonant analog power transfer, digital transceiver communication for policy setting and monitoring with extensible APIs, as well as cloud based power management. PMA is backed by Duracell (Proctor & Gamble), AT&T, Starbucks and General Motors. Both standards have been widely adopted by handset and smart device makers worldwide, and products supporting either technology are being released rapidly worldwide.
DeviceFidelity has a long history of bringing smart accessory solutions to iOS devices, and the current iPhone NFC cases supporting Isis Mobile Wallet available commercially through Verizon Wireless and AT&T in the US are based on DeviceFidelity technology. The smart APIs developed by DeviceFidelity for iOS devices have already been licensed by several hundred developer organizations, looking to create iOS NFC solutions and to expand into mobile security, transit, loyalty and physical access use cases.
See DeviceFidelity's multi-module enable wireless charging and NFC on the iPhone here:
https://vimeo.com/97872539
About DeviceFidelity
DeviceFidelity, Inc. develops plug-and-play technologies that empower a variety of institutions to deploy their services and applications on millions of mobile phones worldwide. Its patented secure microSD and NFC cases for iPhone solutions transform popular mobile phones into interactive contactless transaction devices. DeviceFidelity is a private corporation with headquarters in Richardson (Texas) and offices in San Mateo (California), and Aix-En-Provence (France). For more information visit devicefidelity.com, follow us on Twitter @devicefidelity and at facebook.com/DeviceFidelity.