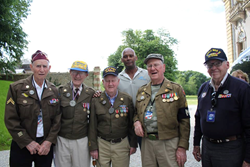 Suitland, Maryland (PRWEB) June 18, 2014
Andrews Federal Credit Union in partnership with the Steak Team Mission provided approximately 600 Texas-style BBQ steak meals with all the trimmings to D-Day vets and their accompanying family members in commemoration of the 70th Anniversary of the D-Day landing in Normandy, France on June 5.
Since 2002 the Steak Team has served over 50,000 steaks to service members all over the globe to include on three aircraft carriers out at sea.
The venue for the lunch/dinner was Château Bernaville in Picauville which is also the home of the Allied Conservatory Foundation. The Château served as the headquarters for German General Wilhelm Falley, commanding general for the German defense of the Cotentin Peninsula and also the place where he was ambushed and killed by troops from the 82nd Airborne Division.
Several dignitaries, including the Secretary of the Army John McHugh, Army Chief of Staff General Raymond T. Odierno, NATO Supreme Allied Commander General Philip M. Breedlove, USAREUR Commanding General Lt. Gen. Donald M. Campbell Jr, 82nd Airborne Division Commander Maj. Gen. John Nicholson, West Point Commandant of Cadets Brigadier Gen. Richard D. Clarke, and several other general officers were in attendance.
About Andrews Federal Credit Union
Andrews Federal Credit Union was founded in 1948 to serve the needs of military and civilian personnel by providing a vast array of financial products and services. With over $1 billion in assets, Andrews Federal has grown to serve more than 100,000 members in the District of Columbia, Joint Base Andrews (MD), Joint Base McGuire-Dix-Lakehurst (NJ), and military installations in central Germany, Belgium, and the Netherlands. In addition, the Credit Union serves as a financial partner with many select employee groups in Maryland, the District of Columbia, and New Jersey.
To learn more about Andrews Federal Credit Union and its community involvement, or to become a member, call 800.487.5500 or visit http://www.andrewsfcu.org.