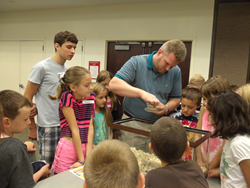 The kids had so much fun with your Future Scientists program, that if you are interested, we would love to have you back
Smithtown, NY (PRWEB) June 17, 2014
The Long Island pest control company's library program is officially titled "Future Scientists: Learn What It Takes to Become an Entomologist". Long Island librarians have also called our program "We Love Insects", "Bugs! Bugs! Bugs! So You Want to be an Entomologist" and "Entomologists in Training". Suburban Exterminating estimates over 400 children have attended the free show in the last 3 years.
Smithtown Main Library said "The kids had so much fun with your Future Scientists program, that if you are interested, we would love to have you back!" More library feedback includes "The information you provided to the children in the program was fun and interesting." And "We had a great time learning about insects and meeting your little critters!"
Children can look forward to meeting Madagascar hissing roaches, a tarantula, scorpion and other animals. Suburban Exterminating looks forward to meeting the children, their parents and the librarians. The free library program runs for 45 minutes to an hour for Grades 3 - 5. Come and join the buggy fun.
Performances are planned for Port Jefferson, East Northport, Smithtown, Southampton, West Babylon and Greenlawn libraries. Click here to see the complete 2014 summer schedule
About Suburban Exterminating Co, Inc.: Established in 1960, Suburban Exterminating Co, Inc. is Long Island, New York's leading full-service pest management company providing services in all phases of pest control to homes and businesses. We service all of Suffolk county and Nassau county east of the Meadowbrook Parkway. http://www.suburbanexterminating.com
For more information, contact: Jason Byer, President. Suburban Exterminating 631-864-6900 contact us(at)suburbanexterminating(dot)com.