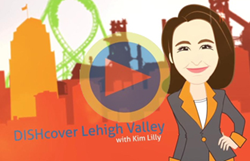 "Short video has quickly become a great way to not only tell, but also show people what makes Lehigh Valley great." - Discover Lehigh Valley Executive Vice President, Kim Lilly
Lehigh Valley, PA (PRWEB) June 13, 2014
If pictures say a thousand words, what do multiple web video series say? Discover Lehigh Valley is finding that out through a variety of recent of video series that appear online and on RCN and Service Electric Cable TV in an effort to better reach potential tourists and current residents.
"Short video has quickly become a great way to not only tell, but also show people what makes Lehigh Valley great," Discover Lehigh Valley Executive Vice President, Kim Lilly, said. "We're able to only take a few minutes of your time to let you know the places to go, food to eat, and events to attend."
Discover Lehigh Valley's current video series, which can all be viewed by visiting http://www.YouTube.com/DSCVRLehighValley, include:

Some of these video series episodes also appear on Discover Lehigh Valley TV, on channel 189 for both RCN and Service Electric Cable Television.
Discover Lehigh Valley's video series update regularly, so be sure to check in on their Facebook, Twitter, and YouTube accounts to see all the great new content.
About Discover Lehigh Valley
Discover Lehigh Valley is the designated destination marketing organization (DMO) of Lehigh and Northampton counties. Its mission is to promote and develop Lehigh Valley as a leisure and business travel destination. Created in 1984, Discover Lehigh Valley assists in promoting regional tourism, an industry that generates $1.857 billion in annual revenue and accounts for more than 22,000 jobs in Lehigh Valley. For more information on Discover Lehigh Valley and its activities or to request a Lehigh Valley Official Visitors Guide, call (800) MEET-HERE, or visit the official tourism website of Lehigh Valley at DiscoverLehighValley.com.
###