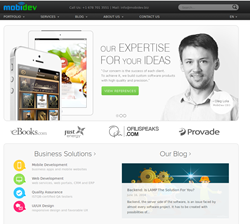 San Francisco, CA (PRWEB) June 19, 2014
Redesigns never are for the sake of trends; they must contain essential value for users. The actual convenience is the key factor that was considered by the redesign. It's the key for making successful apps; same goes for websites. A lot of new pages and articles were added to sum up everything that can come in handy for clients.
The redesign added a lot of new features for visitors:

Flatter, cleaner design, minimalistic and colorful images;
Restructured intuitive menu - any visitor will quickly find exactly what they need;
New beautiful fonts and color palettes to make an even more pleasant read for visitors;
Live chat for easy real-time communication with the company's representatives;
New information includes: new services offered to clients, video testimonials from clients, written testimonials in portfolio, and a little more information about the company for everyone interested: the team, awarded apps, clients and partners, and the company's free internal software products;
The German version of the website has been redesigned in the same way for the convenience of German-speaking visitors;
The blog now offers the best conditions for readers to enjoy highly useful articles and news about all things mobile. New features include comments for reader feedback and five categories (Business & Marketing, Gadgets & Apps, Mobile Technologies, News & Events, and Client's Guide).
The company always does their best to reach high client satisfaction in every aspect of their activities. Feedback is also highly valued as the perfect source of information for further improvements of the website.