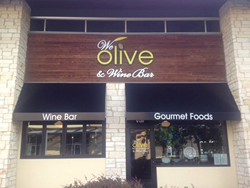 Austinites are generally laid back, creative, and health-conscious people and that is reflective of We Olive's core values as well. Owner, Brad Johnson
Austin, TX (PRWEB) June 15, 2014
We Olive, the celebrated purveyors of International award winning, domestically-produced olive oils are excited to announce the opening of their Austin location. The first store outside of California is located in the Hill Country Galleria (12800 Hill Country Boulevard, Suite G-130, Bee Cave, TX 78738).
The store will not only sell We Olive's certified extra virgin olive oils, but also their brand of infused oils, aged Balsamic vinegars, hand-crafted tapenades, pestos and mustards. The 25-seat café and wine bar at We Olive will offer a menu of simply-prepared, healthful small plates that incorporates the same gourmet food products available for purchase in the store. The menu will include hummus, olives and cheese served with fresh bread, as well as paninis, flatbreads and salads, perfect for a snack or light meal. For those with a sweet tooth, We Olive has partnered with local ice cream producer, Amy's Ice Cream to create an olive oil ice cream that is served topped with sweet and tangy balsamic vinegar. To accompany We Olive's distinct products, the full-service wine bar will feature small production, artisan-produced wines from both California and Texas by the taste, glass or bottle. The Austin store aims to continue We Olive's focus on supporting local producers by having beer from Texas craft and micro breweries on tap and serving cheese and charcuterie boards from Antonelli's, among other local Austin artisanal products.
The Austin location is locally owned by father and son duo, Ray and Brad Johnson and is their first foray into the olive oil world, but something they've always been passionate about. Sharing We Olive's healthy, informative approach with their fellow Austin residents is something the Johnson's are especially excited about. "We felt like Austin, and the surrounding Hill Country, was a great place for We Olive," says Brad. "Austinites are generally laid back, creative, and health-conscious people and that is reflective of We Olive's core values as well."
Nestled in the beautiful Texas Hill Country, We Olive has an old-world artisan feel that flows throughout the wine bar to the retail space. The store's windows open to the outside allowing guests to take in the atmosphere offered by the Hill Country locale. The space has an inviting and relaxing environment where customers are able to shop, eat and drink. An interactive tasting bar, as well as 25-liter fustinos (stainless steel vessels for dispensing olive oil) throughout the store, offer customers the chance to sample and purchase some of the country's freshest and finest olive oils.
From their first location to their 12th in Austin, We Olive has always had a commitment to education. As part of this, We Olive guests are offered the opportunity to take part in a full "olive oil experience" in the store, including the opportunity to:

Taste artisan-produced EVOOs created from a unique variety of olives grown in the U.S.
Learn about the health benefits of extra virgin olive oil
Discover ways to cook with artisan-created EVOO, and how to more fully incorporate EVOO in one's daily diet
Learn about all aspects of olive oil production, including its growth, harvesting, milling, blending and storage—all of which impact flavor and quality.
Book in-store events with We Olive's trained experts.
"We Olive & Wine Bar was created as a place to celebrate the rich history of artisan-produced olive oil and wine. We revived this centuries-old pairing through the successful integration of 'The Olive Oil Experience,' a retail gourmet food tasting and an educational, tasting-oriented wine bar," said Frank Mercurio, who created We Olive with his wife, Ruth. "Wrap all of these things together, pair it with a casually elegant atmosphere, and you have a unique culinary experience that friends, family, and neighbors can enjoy together."