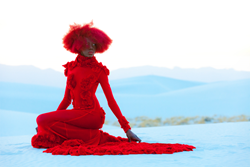 We, as designers and artists, must first value our own work before it will be valued by the markets we seek to sell to. - Benson Roberts, Atelier Benson
Austin, TX (PRWEB) June 28, 2014
In a featured article on FashionMingle.net, Benson Roberts revealed useful tips for pricing a couture fashion collection. An independent couturier with 20+ years in the fashion business creating his own designer label and custom work, Roberts maintains that "In a market where a ready-made wedding gown can be $3000, you are doing yourself a disservice by charging less!"
Lowering the cost of designer garments to attract new clients does not often yield a profit according to Roberts. In order for fashion designers to sell their collections and pieces while running a viable business, the industry veteran insists that designers should "Never apologize". Roberts explains that exclusive clients like to purchase exclusivity. "It is far better to sell one dress for $5000, than 5 dresses for $1000. It is fear of failing that causes us to undervalue our work".
In the article, the fashion designer also discussed how to handle selling garments to friends and family who may ask for discounted wares. Roberts share his response to those requests based on his own personal experience: "My friends no longer ask for discounts, and yes, they do buy from me often!"
Key factors to consider when pricing couture designer garments and accessories are labor costs, costs of materials used, and the designer's living wage based on his or her location.
Benson Roberts has been a successful fashion designer for over 20 years. He is the Founder and CEO of Blue Moon Apparel Manufacturing Services, and is reinventing his couture designs through innovative approaches. Photographs of his fashion collections can be viewed at Atelier Benson online.
About FashionMingle.net
FashionMingle.net is a network for fashion entrepreneurs to share, discover, and mingle. The business directory and social network creates a PR platform for fashion entrepreneurs to promote their services and grow their business. More information can be found at FashionMingle.net.