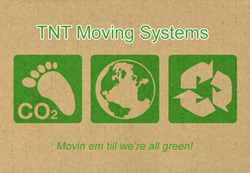 Moving things you don't need is a strain on the environment and your pocket book! -- Tom Tulowiecki, T-N-T Moving Systems, Charlotte NC
Charlotte, NC (PRWEB) June 16, 2014
Locally owned and operated, T-N-T Moving Systems in Charlotte, NC advise their clients on how to move in an environmentally conscious way, reducing waste while still protecting their belongings.
Summer is here and for moving companies, it is their busiest time. Moving can be expensive, time-consuming and wasteful. According to Moving.com, a 3-4 bedroom house will need 35-50 boxes ranging in size, a box of bubble wrap or other packing material, plus tape and labels. Since more Americans move during the summer months, T-N-T Moving Systems wants to help customers be less wasteful. "We can all do our part to help the environment," says Todd Koepke.
"We offer moving supplies at reasonable rates," says Tom Tulowiecki, co-owner of T-N-T Moving Systems, "But we also have tips on how to save money during your move by reducing the supplies you might need."
T-N-T Moving Systems in Charlotte encourages their clients to get creative with their move. "Being green is all about planning ahead," says Tulowiecki.
Plan the move well in advance in order to get rid of unwanted items. "Moving things you don't want or need ends up costing you money," explains Tulowiecki. T-N-T advises their clients to have a yard sale 1-2 months before the scheduled move or just donate to a local charity. "We call this the purge. Get rid of stuff before you start packing, otherwise you will be spending extra money and time on your move." T-N-T reminds customers that long distant moves are based on weight rather than time, therefore getting rid of unwanted items before the move reduces the cost.
T-N-T is a full-service moving company, meaning they offer packing and unpacking services along with loading and transporting. "Are packers are efficient in order to minimize how many boxes we use," says Tulowiecki. "If you're doing the packing, make sure to use the right size box for the right things." This can help reduce the amount of boxes that need to be used.
T-N-T also encourages clients to use towels, blankets and linens as packing materials for fragile items. Often one can get away with not purchasing bubble wrap which reduces the impact on the environment and cost of the move. Fragile items that are wrapped properly will survive the transition.
Craigslist is a great site for finding free boxes, but T-N-T discourages people from finding movers on the site. "Honestly, trusting all of your belongings to strangers is scary and there are a lot of scammers out there. That's why, even if you don't choose us, make sure you get a company with a good reputation and insurance," says Todd Koepke, co-owner of T-N-T.
This summer, college graduates are moving out of the dorms and into the work force, couples are buying new houses, and people of all ages are relocating for job opportunities. If a move is in the future, plan ahead, remove unwanted items, re-use boxes, use alternative packing materials, and hire a reputable moving company. These tips will help reduce waste and ensure safety. On their website, http://www.tntmovingsystems.com, clients can request a free quote or they can call 704-523-1455.