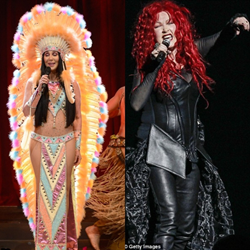 Denver, CO (PRWEB) June 14, 2014
Yes, these three glorious, glamorous Grammy Award-winning girls just want to have fun. Not only that, they're dressed to kill to boot. And what an understatement that is. In fact, Cher, who has always been ever daring in her sartorial splendor, has stayed on the cutting edge of fashion just shy of 50 years.
Distinguished by her distinctive contralto, she shot to fame as part of the folk rock duet Sonny and Cher in 1965. Now, five decades later, audiences across America are still raving about Cher and her latest concert, complete with its numerous dress and tress changes.
After opening her latest tour last May, fans and critics agree that Cher has been on an absolute tear. But then, that's nothing new for the 68-year-old singer/actress. Brassy and sassy as ever, the patron saint of underdogs is still set to play 37 more gigs as part of her Dressed to Kill tour.
Lauper will perform with Cher for 12 more dates, with the next gig slated for the MTS Centre in Winnipeg, Manitoba on June 20, 2014. Pat Benatar and Neil Giraldo will join Cher starting at the Times Union Center in Albany, New York on September 11, for 24 more dates. The current wrap is scheduled for the Intrust Bank Arena in Wichita, Kansas on November 3, 2014.
"With singers of Cher, Cyndi Lauper and Pat Benatar's caliber, and a multi-generational fan base in the tens of millions, it's no wonder discount tickets for Cher's tour continue to trend at the top," said Marta Ault at online discount ticket marketplace BuyAnySeat.com.
"That's why we're proud to be able to offer fans the most comprehensive and continuously updated selection of discount concert tickets online, with a worry-free guarantee to protect their purchase.
"To access the complete inventory of cheap Cher tickets now online – as well as the entire inventory of all seats available – fans can go to BuyAnySeat.com and search for Cher – then select their tickets."
Today, as one of the best-selling musical talents of all time, Cher has sold over 100 million solo albums. She has sold over 40 million tracks as Sonny & Cher around the globe. She is also the only artist to have a number-one single on a Billboard chart in each of the past six decades.
Plus, of course, Cher has won an Academy Award, a Grammy Award, an Emmy Award, three Golden Globe Awards, and the Best Actress Award at the Cannes Film Festival, among numerous other honors.
Support act Cynthia Ann Stephanie "Cyndi" Lauper hit the mainstream after her debut solo album She's So Unusual was an instant commercial success in 1983. The album was the first debut female album to chart four Top Five hits on the Billboard Hot 100, including "Girls Just Want to Have Fun", garnering Lauper the Best New Artist award at the 27th Grammy Awards in 1985.
Her success continued with the soundtrack from the motion picture "The Goonies" and her second record, True Colors in 1986, which included the Number One hit of the same name, and "Change of Heart," which peaked at Number Three and earned Lauper two nods at the 29th Grammy Awards in 1987.
Since 1989, Lauper has released nine studio albums to varying critical acclaim. Her most recent album, the Grammy-nominated Memphis Blues, became Billboard's most successful blues album of the year, remaining at Number One on the "Billboard" blues charts for 13 consecutive weeks.
In 2013, Lauper's Broadway musical Kinky Boots led the 2013 Tony Awards with 13 nominations and six awards including Best Musical. That year, she also became the first artist in over 25 years to top the dance charts with a Broadway single, and in 2014 was awarded the Grammy for best musical theater album as producer, composer and lyricist. That same Kinky Boots cast album spent 51 weeks on the Billboard 200 chart.
Over the course of her career, Lauper has sold more than 80 million records worldwide and has won at the Grammy, Emmy, Tony, MTV VMA, Billboard, and AMA awards.
Four-time Grammy Award winner Patricia Mae Andrzejewski, aka Pat Benatar, will also lend support to the tour. As a mezzo-soprano. Benatar also enjoyed substantial commercial success.
During the 1980s, Benatar had two RIAA-certified Multi-Platinum albums, five RIAA-certified Platinum albums, three RIAA-certified Gold albums and 14 Top 40 singles, including the Top 10 hits, "Hit Me with Your Best Shot", "Love Is a Battlefield", "We Belong" and "Invincible".
Benatar was one of the most heavily played artists in the early days of MTV. She was the first woman to play on MTV performing, "You Better Run".
To shop for discount Cher tickets, visit BuyAnySeat.com. To save to even more, enter coupon code "BAS2014" during checkout.
About BuyAnySeat.com: An online discount ticket marketplace, BuyAnySeat.com connects sports, theater and other live entertainment fans to an extensive worldwide network of ticket sellers. The site's simplified listings and navigational tools enable fans to easily locate, compare and purchase inexpensive, discounted or lower-priced tickets to virtually all advertised sports and entertainment events around the globe.
The marketplace, which is PCI-compliant and Norton Secured, also provides customers with a complete Worry-Free Guarantee on all ticket purchases. Based in Denver, Colorado, BuyAnySeat.com is a subsidiary of Denver Media Holdings. For more information, please visit http://buyanyseat.com.