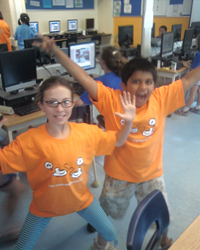 The kids don't realize they're learning to learn.
Toronto, ON (PRWEB) June 15, 2014
Thinking Skills Club is pleased to participate in the Homeschooling.com Summer Freebie Extravaganza by offering free Home Player Memberships access to their online brain games through the summer months.
Homeschoolers comprise about 3 percent of the school-aged population in the United States. While they have not changed too much over the years, with the advent of the internet they are much better connected and have access to more diverse educational resources. Literally hundreds of homeschooling moms write blogs with names like Confessions Of A Homeschooler and Itsy Bitsy Learners, sharing experiences, lesson plans, and lunch recipes.
One place these moms go to for advice is Homeschool.com, which has been around for 14 years providing information, products and services to the homeschooling community. Throughout the month of June they are offering their Summer Freebie Extravaganza, where homeschooling families will find everything from board games, curriculum planners, activity kits and the Thinking Skills Club brain games – all for free.
The Thinking Skills Club is no ordinary brain training site: its online video games are curated from popular kids game sites and organized according to the brain function they improve: memory, attention, processing speed, problem solving, executive functions, and more.
"Even social skills such as empathy and cooperation can be improved upon by playing these games," explains site director Mitch Moldofsky. "Thinking Skills Club games have been selected especially for their 'fun factor' as well as their brain-training effects."
Moldofsky started the website after getting a degree in Cogntive Science. Having learned about the positive effects of computer games on the brain, he looked at his own two sons' online activity in a different light. Seeing the library computers sitting idle after school hours, he started an after school club featuring cognitively enhancing online games.
"Games keep kids motivated, and the skills they teach happen as a side effect. They don't realize they're learning to learn," says Moldofsky.
About the Thinking Skills Club
The Thinking Skills Club curriculum of online games helps children in grades 3-6 develop working memory, focused attention, executive function skills and other cognitive abilities. Ideal for use as an after school club, at homeschool or in the classroom.
About Homeschool.com
Homeschool.com has been in business for over 14 years helping homeschooling families like you get the information they need about the different curriculum, products and services offered to the homeschooling community.