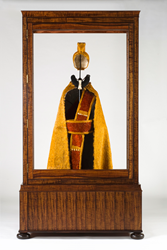 "HLH spearheaded this featherwork project as part of our ongoing efforts to enhance awareness around the restoration of habitat for endangered species," said Jeff Dunster, HLH CEO.
Paauilo, Hawaii (PRWEB) June 13, 2014
HLH, a sustainable forestry company based on Hawaii Island, yesterday unveiled a collection of featherwork art reproductions of a cape, sash and helmet worn by King Kamehameha I in honor of Kamehameha Day, celebrated each year in Hawaii on June 11 to honor the first king of Hawaii.
The three intricate pieces, commissioned by HLH in early 2013, were created by renowned Hawaiian featherwork artist Rick San Nicolas based on the painting "Aha Ula O Kamehameha Kunuiakea" by Brook Kapukuniahi Parker, an artist and Hawaiian historian. The pieces were dedicated in a private ceremony and blessing yesterday at Four Seasons Resort Hualalai on Hawaii Island, where they will remain on display in a custom koa wood case by award-winning wood artisan Alan Wilkinson, along with a rare uhiuhi wood spear crafted by traditional Hawaiian weapon maker Manny Mattos.
"HLH spearheaded this featherwork project as part of our ongoing efforts to enhance awareness around the restoration of habitat for endangered species," said Jeff Dunster, HLH CEO. "Some of the feathers used in King Kamehameha's original cape were sourced from bird species that are now extinct. Through the planting of endemic trees such as koa, we aim to re-establish a critical habitat for a variety of these species, many found nowhere else on Earth."
Throughout the past four years, HLH and the Hawaiian Legacy Reforestation Initiative (HLRI), the nonprofit arm of HLH, has planted more than 250,000 endemic koa, sandalwood and many other endangered Hawaiian species across more than 650 acres in the first-of-its-kind Legacy Forest above historic Umikoa Village on the slopes of Mauna Kea on Hawaii Island.
"This site was once a majestic koa forest and the personal property of King Kamehameha I," Dunster said. "Less than 10 percent of these old-growth forests are still in existence. Through the efforts of more than 300 charities and Legacy Partners, and thousands of individual tree sponsors, this forest is coming back. Trees planted just over four years ago are already reaching heights of 40 feet or more. With a goal of planting 1.3 million endemic trees, we still have a lot to do, and we cannot do it alone."
The Four Seasons Resort Hualalai, a longtime HLH partner, has committed to planting 500,000 koa Legacy Trees in the HLRI Legacy Forest in conjunction with the luxury hotel collection's global tree-planting initiative, celebrating its 50th anniversary.
"Working with HLH on projects like this breathtaking featherwork display and the Legacy Forest helps us give guests a deeper, more meaningful connection to Hawaii's rich history and culture," said Robert Whitfield, regional vice president and general manager of the Four Seasons Resort Hualalai. "The positive environmental impact of the Legacy Forest is already evident as bird species return there, including the endemic Hawaiian owl (Pueo), the endemic Hawaiian hawk (I`o) and the endemic Hawaiian nene – all endangered."
The cape, which measures 60 inches in length, uses nearly a quarter million individual golden breast feathers from Chinese golden pheasants. The sash, which is nearly 12 feet long and six inches wide, is feathered on both sides featuring the reddish-orange feathers of the Lady Amherst pheasant in addition to those of the golden pheasant. The hand-woven helmet is made entirely of golden pheasant feathers. All feathers were sourced as a bi-product of pheasants harvested for food.
"This three-piece collection represents more than 4,500 hours of work, including the help of a master weaver and a small team of assistants in preparing the feathers," said artist Rick San Nicolas, who has created featherwork pieces for 15 years. "It is a great honor for me to be able to do this work and to contribute to the perpetuation of the art of ancient Hawaiian featherwork."
Watch the cape creation in time-lapse: https://www.youtube.com/watch?v=7kMYibR23r0&feature=youtu.be
About HLH
HLH has set aside 1,000 acres of its sustainable forestry project to establish the state's first Hawaiian Legacy Forest as part of its nonprofit arm, the Hawaiian Legacy Reforestation Initiative. Located above the historic Umikoa Village on the slopes of Mauna Kea, HLH uses state-of-the-art technology backed by decades of experience to preserve thousands of years of history, culture and natural resources. HLH is one of a select group of companies worldwide to be named a Certified B Corporation, using the power of business to solve social and environmental issues. For more, visit http://www.HLH.co. For more on Legacy Tree Planting Tours visit http://www.HawaiianLegacyTours.com and for more on sponsoring a Legacy Tree, visit http://www.LegacyTrees.org.
MEDIA CONTACT
Teddi Anderson
President, TLC PR
(808) 535-9099
teddi(at)tlcpr(dot)com