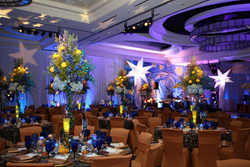 Hudson County, NJ (PRWEB) June 16, 2014
The CarePoint Health Foundation annual Spring Gala was held on Saturday, May 17th, at the Marriott Newark Airport International Hotel. The event raised more than $642,000 and was attended by a sold out crowd of 530 people, including physicians, medical staff, donors and community leaders. Part of the event's proceeds went to endow the new CarePoint Health Foundation College Scholarship fund and other Foundation efforts to assist those in need in Hudson County. One of this past semester's award recipients, Hannah Green, from Hudson County Community College, was a featured speaker at the event. The CarePoint Health Foundation generates charitable dollars and makes strategic grants to support programs and services that advance its mission of improving access to health, wellness, health education and future health professionals' education services for residents of Hudson County, New Jersey.
The Spring Gala program was led by CarePoint Health Foundation Vice President and Master of Ceremonies Paula A. Nevoso. The program included recognition of donors and sponsors, whose generosity make the mission of the organization possible. Individual and corporate sponsorship donations ranged from $2,500 to $30,000. Six students who received $5,000 scholarships were on hand, including Hannah Green, a graduate of Hudson County Community College and a current student at the CarePoint Health School of Nursing. She spoke enthusiastically about how her scholarship has helped her pursue her education in health care.
The CarePoint Health Foundation, Inc., is a not-for-profit 501(c)(3) organization serving Hudson County, New Jersey. The mission of CarePoint Health Foundation is to strengthen access to care for uninsured and underinsured members of the Hudson County community. The Foundation envisions a community where all residents can easily access the health and wellness services they need. The Foundation will be a leader in this effort by building strategic relationships with community agencies and providers to enhance and expand programs that effectively educate consumers and eliminate barriers to essential care.
For more information about the CarePoint Health Foundation Spring Gala, contact:
Paula A. Nevoso
Vice President
CarePoint Health Foundation
Phone: 201-795-8000
Fax: 201-795-8040
Email: carepointhealthfoundation(at)gmail(dot)com
About CarePoint Health Foundation:
CarePoint Health Foundation, Inc., is a not-for-profit 501(c)(3) organization serving Hudson County, New Jersey.
About CarePoint Health:
CarePoint Health brings quality, patient-focused health care to Hudson County. Combining the resources of three area hospitals - Bayonne Medical Center, Christ Hospital in Jersey City, and Hoboken University Medical Center - CarePoint Health provides a new approach to deliver health care that puts the patient front and center. We leverage a network of top doctors, nurses and other medical professionals whose expertise and attentiveness work together to provide complete coordination of care, from the doctor's office to the hospital to the home. Patients benefit from the expertise and capabilities of a broad network of leading specialists and specialized technology. And at CarePoint Health, all of our medical professionals emphasize preventive medicine and focus on educating patients to make healthy life choices. For more information on our facilities, partners and services, visit our website, http://www.carepointhealth.org.