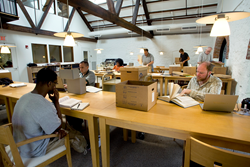 "We are excited to unite Hagley's scholarly resources with the training and expertise provided by the Miller Center," says Roger Horowitz, Hagley Director of the Center for Business, Technology, and Society.
Wilmington, Delaware (PRWEB) June 16, 2014
Hagley Museum and Library and the Miller Center at the University of Virginia announce a Miller Center/Hagley Library Dissertation Fellowship in Business and Politics. The fellowship, beginning in the 2015-2016 academic year, supports the completion of dissertations that address the connections between business and politics. The partnership recognizes the relationship between the mission of the Miller Center and the research materials available at Hagley.
Hagley Library is the nation's leading business history library, archives, and research center. It houses the archives of more than 1,000 companies and trade associations, including the National Association of Manufacturers, United States Chamber of Commerce, and National Foreign Trade Council. "Hagley's business records are essential for understanding the relationships between business and public policy, and have been a major resource for scholarship in this area for decades," says Roger Horowitz, Director of the Center for the History of Business, Technology, and Society at Hagley. "In the past many researchers in our collections also have benefitted from the Miller Center, so we are excited to unite Hagley's scholarly resources with the training and expertise provided by the Miller Center."
The Miller Center is the nations' leading research center devoted to the study of the presidency and American politics. It works to understand the course of events to date and provide historical insights for the policymaking challenges the country faces today. Since 2000, the Miller Center fellowship program has helped launch the careers of more than 125 scholars whose dissertations employ history to shed light on American politics, public policy, foreign relations, science and technology policy, the impact of global affairs on the United States, and media and politics.
The Miller/Hagley fellow will receive a stipend, and be in residence at Hagley for the fall and spring academic year. Through the Miller Center, the fellow will be paired with a mentor, a senior scholar in the fellow's field who provides critical guidance during his/her fellowship year.
About the Miller Center
The Miller Center is a nonpartisan affiliate of the University of Virginia that specializes in presidential scholarship, public policy and political history and strives to apply the lessons of history to the nation's most pressing contemporary governance challenges.
About Hagley Museum and Library
At Hagley, we invite people of all ages to investigate and experience the unfolding history of American business, technology, and innovation, and its impact on the world, from our home at the historic DuPont powder yards on the banks of the Brandywine.
For more information, call (302) 658-2400 weekdays or visit http://www.hagley.org.
###