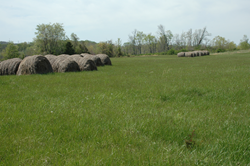 This land allows for a variety of uses including single- and multi-family homes, townhouses, churches, commercial ventures, and more
KANSAS CITY, Mo. (PRWEB) June 16, 2014
Qualified buyers have the opportunity to purchase the largest parcel of undeveloped land in the city limits of Bloomington, Ind., from the comfort of their own living room. Conducted by Jimmie Dean Coffey, founder, president and chief executive officer of United Country – Coffey Realty & Auction of Bloomington, this Internet-only auction is running now through Wednesday, July 23 with a soft, staggered closing. This online event is being conducted in collaboration with Tim Ellis Realtors and Auctioneers, Inc.
"Our client recognizes and understands the value of using the accelerated auction marketing method to sell their property," said Coffey. "What does this mean for buyers? It means they have the opportunity to purchase unique Indiana investment property at their desired price. Today's market conditions and the auction format allows sellers and buyers to come to an agreement quickly with a competitively achieved fair market value."
Situated less than two miles from downtown Bloomington, these approximately 138 acres are adjacent to Summit Elementary School and close to numerous restaurants, motels and retailers. Additionally, it is near the campuses of Indiana University and Ivy Tech Community College of Indiana.
"Opportunities such as this one don't reveal themselves every day," Coffey said. "This land allows for a variety of uses including single- and multi-family homes, townhouses, churches, commercial ventures, and more. This is simply an incredible investment opportunity."
Detailed information about the property for sale, as well as details about the auction, can be found online at INPropertyAuction.com. The team at United Country — Coffey Realty & Auction can be contacted at 812-824-6000 or JCoffey(at)JDCGroup(dot)com. Tim Ellis Realtors and Auctioneers, Inc., can be reached at 812-322-3514 or Tim(at)TimEllisRealtors(dot)com.
About United Country
United Country Real Estate is the largest fully integrated network of conventional and auction real estate professionals in the United States and Central America. The company has been an innovator in lifestyle (non-urban) real estate marketing since 1925. United Country supports nearly 500 offices across the U.S., Costa Rica, Panama and resort areas of Mexico, with a unique, comprehensive marketing program that includes one of the largest portfolios of specialty property marketing websites (more than 3,500 separate sites and traffic of approximately 3 million visitors per month), multiple United Country real estate catalogs and third-party lifestyle magazines with national distribution , an extensive buyer database and other national advertising of local properties that reaches more than 90 million homes per week. United Country has recently been recognized by Franchise Business Review, AllBusiness.com, The Land Report, Entrepreneur and The Wall Street Journal as one of the top U.S. real estate companies.