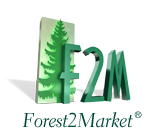 Over the last two years, we've expanded into new regions in the US and into South America. Our analytics business has also grown," says Pete Stewart. "These changes to our executive management team will position Forest2Market for future growth.
Charlotte, NC (PRWEB) June 18, 2014
• Gordon Culbertson, Forest2Market's Pacific Northwest Region Manager, will transition from his current role to Director –International Business

Peter Coutu, Northeast and Midwest Region Manager, has been promoted to Sales Director – North America
Open Position: Pacific Northwest Region Manager
Forest2Market is expanding its executive sales team to deliver consistent messaging and account management as it responds to U.S. and international growth.
Gordon Culbertson, who has served Forest2Market's customers in the Pacific Northwest since 2007, has been appointed Director of International Business, where he will work to establish relationships and identify new business partners across the globe.
"Culbertson was instrumental in Forest2Market's expansion to Brazil in 2013," says Pete Stewart, President and CEO of Forest2Market. "He was able to call on his years of experience to understand the Brazilian market and develop relationships and products for the forest products industry there. I am happy he will continue these efforts as we explore additional opportunities for expansion."
Culbertson will continue to serve the company's Pacific Northwest customers until his current position is filled (Pacific Northwest Region Manager job description).
Peter Coutu, current sales manager of Forest2Market's Midwest and Northeast regions, has been appointed Sales Director – North America. In his new role, Coutu is responsible for customer account management and sales of all subscription services in the U.S. and Canada. The company's regional sales staff will report to him.
"We have customers with operations across the U.S. and Canada," says Stewart. "This new role has been created to ensure consistent and high quality products and service for all customers, especially for companies that operate in multiple regions. Coutu has done a remarkable job launching our Midwest and Northeast business, and I am confident he will bring the same value to all our North American customers."
Coutu will work out of the company's Charlotte, North Carolina headquarters.
Vice President of Marketing and Sales, Suzanne Hearn continues to be responsible for sales of all custom analytics, as well as Forest2Market's bioenergy and lumber practices. Stan Parton, bioenergy sales manager, and Bob Bratton, lumber sales manager, continue to report to Hearn.
"Forest2Market's analytics business has grown significantly in the last two years," says Stewart. "Both our traditional industry customers and new entrants to the market have bolstered that business. Every year, they ask us more sophisticated and difficult questions. Hearn's ability to identify customer needs and her expertise in the creative application of our data to answer these questions are essential to our future growth in this area."
About Forest2Market
Headquartered in Charlotte, N.C., Forest2Market provides market pricing data, performance benchmarks and analytics, as well as supply chain expertise to customers in the forest, wood products, pulp and paper, lumber and bioenergy industries. For more information, visit http://www.forest2market.com.