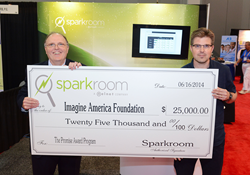 Las Vegas, NV (PRWEB) June 17, 2014
Yesterday at the annual convention for the Association of Private Sector Colleges and Universities (APSCU), Sparkroom and the Nelnet Foundation presented the Imagine America Foundation (IAF) with a $25,000 donation to provide scholarships to help students continue their studies at career colleges nationwide. The donation will help fund the Imagine America Promise scholarship program, which provides grants to students who show a strong dedication to their program of study through good grades and consistent attendance records.
"We are pleased to continue our annual tradition of donating to the Imagine America Foundation Promise Award fund," said Ben Kiser, President of the Nelnet Foundation. "Nelnet's mission is focused on making educational dreams possible, and we happily partner with likeminded organizations."
Nelnet has been providing grants annually to IAF since 2009. To date, they have contributed $170,000 to the Imagine America Promise scholarship program.
"Every Promise Award scholarship allows a deserving student to get closer to reaching his or her educational and career goals," said Todd Eicher, CEO of Sparkroom. "And in the end, that is our primary focus every day."
Every year, IAF awards scholarships to dedicated students to help fund their education. Since its inception in 2002, the Foundation's Promise scholarship program has provided more than $650,000 in grants, supporting nearly 800 students in their educational endeavors. The Promise scholarships are funded entirely by sponsors like Sparkroom and the Nelnet Foundation.
"IAF is pleased with Sparkroom's continued support of IAF and career college students," said Robert L. Martin, President and CEO of the Imagine America Foundation. "Annually, IAF uses these funds to support scores of enrolled career college students with direct cash grants."
About Sparkroom
Sparkroom is the leader in performance marketing for the higher education industry, providing fully transparent, analytics-based strategies that are customized to meet school enrollment objectives. Sparkroom provides Marketing Services and Marketing Software, the combination allowing for improved efficiency and efficacy of enrollment marketing campaigns. Sparkroom Marketing Services include PPI Vendor Management, PPC Enrollment Campaigns, Marketing Analytics, Compliance Monitoring, Email Marketing, SEO, Social Media and Targeted Display. Sparkroom Marketing Software integrates marketing data, automates processes based on performance and provides robust, multidimensional reporting and analytics. Sparkroom is owned by Nelnet (NYSE: NNI) and part of the Nelnet Enrollment Solutions family of brands. For more information, go to http://www.sparkroom.com.
About the Imagine America Foundation
The Imagine America Foundation (IAF), established in 1982, is a not-for-profit organization dedicated to providing scholarships for education, research and training support for the career college sector. Since its inception, the Foundation has provided more than $100 million in scholarship and award support for graduating high school seniors, adult learners and U.S. military personnel attending career colleges nationwide through its award-winning Imagine America® programs. The Foundation also publishes vital research publications for the higher education sector, honors achievement in career education and offers faculty development training. For more information about the Imagine America Foundation's programs, please visit http://www.imagine-america.org.