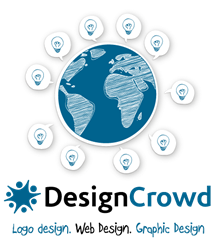 "A growing number of businesses around the world are looking to online crowdsourcing communities to get work done, and we're working hard to support this demand globally." - Chris McNamara, COO, DesignCrowd
San Francisco, CA (PRWEB) June 16, 2014
DesignCrowd, the global crowdsourcing marketplace for design work, has acquired Worth1000, a creative contest platform home to more than 600,000 users.
Worth1000 is a graphic design community and creative content marketplace whose 600,000 members include graphic designers, customers, writers, photographers and illustrators. The migration process of Worth1000's users has begun, and DesignCrowd's user base will be growing significantly in the next few weeks.
"Worth1000 is home to thousands of businesses and some of the world's best graphic designers. We're very excited to have them join our community," said Chris McNamara, COO of DesignCrowd.
"A growing number of businesses around the world are looking to online crowdsourcing communities to get work done, and we're working hard to support this demand globally," said McNamara. "You can now reach more creative talent through DesignCrowd than if you knocked on the door of every design agency in the U.S., Australia and the U.K. combined."
Founded in 2008, DesignCrowd has helped tens of thousands of businesses from around the world crowdsource projects ranging from logos and business cards to website and t-shirt design. DesignCrowd has received almost 4 million designs, for more than $18 million worth of projects. The Worth1000 acquisition means there will be many more milestones in the near future.
The terms of the deal were not disclosed.
To explore the DesignCrowd marketplace, visit http://www.designcrowd.com.
About DesignCrowd
DesignCrowd is an online marketplace that specializes in helping businesses crowdsource design projects to a network of freelance designers from around the world. Hundreds of thousands of designers participate in graphic, logo and website design contests on DesignCrowd each year. For more information, visit http://www.designcrowd.com.
About Worth1000
Worth1000, launched in 2002, is a creative contest marketplace home to hundreds of thousands of customers, photographers, graphic designers, writers and illustrators.
For additional information:
Marija Bijelic
Click PR, for DesignCrowd Australia and UK
+61 02 8006 0132
marija(at)clickpr(dot)com(dot)au
Josephine Sabin
DesignCrowd
415-570-3093
jo(dot)sabin(at)designcrowd(dot)com