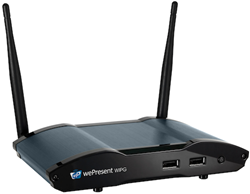 The WiPG-2000 adds even more innovative features to the already highly-functional wePresent lineup.
Rockwall, Texas (PRWEB) June 14, 2014
wePresent™ announced today that it will unveil the industry's new benchmark in wireless presentation systems at INFOCOMM 2014. The newest model in their line of wireless presentation systems, the WiPG-2000, will be formally released in Q3, and offers unbeatable functionality and better pricing than any other wireless presenter on the market.
Ideal for the education, corporate and government markets, the WiPG-2000 wireless presentation gateway provides an attractive feature set that is traditionally found on high-end rack-mounted network servers. wePresent will also display and demo their full suite of wireless presentation products, including the WiPG-1000 and WiPG-1500 at the wePresent booth, No. C6234, at the Las Vegas Convention Center during InfoComm.
wePresent™ is an innovative wireless presentation solution that allows up to 64 users to present wirelessly to a display from any device in full 1080p HD. Their current models include standard features and benefits such as presenting at 30fps, being a full wireless access point, can become a client on an IEEE 802.11 g/b/n network, supports the latest industry standard security encryptions, and allows up to 4 devices to present onscreen simultaneously. The upgraded WiPG-1500 model, which was introduced last year, is packed full of additional features like browser slides, on-screen annotation, a virtual whiteboard/blackboard, a personalized start-screen, and comes included with the AirPad USB input device.
This year, the all new WiPG-2000 unit adds even more innovative features to the wePresent lineup including:

Full Video Streamer with Onboard Video Decoder
PC-Less USB Media/Document Player (local Media)
Power Over Ethernet (POE)
Gigabit Ethernet LAN Port (10/100/1000)
1 to 4 Projection (1 Device to 4 Screens)
Driverless Universal Multi-Touch (UMT) Support
Onboard Download & Show Software Client (no installation)
New User Interface Design for PC-list Presentation Control
Additional supported bundles will be on display at the wePresent booth, including a 75" commercial display with touchscreen overlay from Samsung, and the LifeSize Icon 600 video conferencing system, which allows users in a conference room to wirelessly share their desktop to participants in a videoconferencing call.
Industry analysts and media interested in a demonstration of wePresent's wireless presentation systems at INFOCOMM are urged to contact Heather Nichols at 214-935-2416 to arrange a scheduled meeting time in advance.
The wePresent system is available through distribution in the US, Canada, Latin America, and Europe, and is sold through a network of online and ProAV resellers. More information about wePresent is available at http://www.wePresentWiFi.com or call 214-935-2416 in the U.S. and +31 (0)10 2293495 in Europe.
About wePresent™
wePresent™ is one of the world's most advanced and innovative wireless presentation solutions. The wePresent product enables end-users to move away from cables and connections and move into the world of wireless presentations. wePresent™ allows up to 64 users to connect and give a wireless presentation, in full 1080p HD, to the display from ANY device. wePresent works with PC, Mac, iOS, and Android.
More information about wePresent is available at http://www.wePresentWiFi.com
Follow wePresent Facebook: http://www.facebook.com/wePresentWiFi
LinkedIn: http://www.linkedin.com/company/3557937 Twitter: http://twitter.com/wePresentWiFi