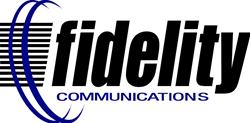 Nevada, MO (PRWEB) June 15, 2014
The public is invited to the grand opening of the new Nevada home of Fidelity Communications on Friday, June 20, starting with a ribbon cutting at 10 a.m. Fidelity moved to its new location at 310 N. Osage earlier this month and opened for business on June 9.
The grand opening continues from 11 a.m. to 1 p.m. on Friday, with Nevada team members serving grilled hot dogs, chips, drinks and snow cones. Attendees are also eligible for door prizes and a drawing for a Weber grill.
The new building measures 3,750 square feet and includes a business office and a warehouse. It was built by a local firm, Erwin Construction. The new office replaces a much smaller building on East Cherry.
"Our old location was too small and couldn't be expanded," said Andy Davis, Executive General Manager. "We're excited to move into a new, larger building that's tailored to meeting our needs in the growing Nevada market."
The Nevada location employs two full-time customer service representatives, a warehouse clerk and eight installation and repair technicians. The office/warehouse staff is headed by Western Missouri Tech Ops Supervisor Bill Heinle.
Since acquiring the Nevada TV and Internet system in early 2012, Fidelity has invested more than $3.2 million in equipment and upgrades. Those improvements enabled Fidelity to increase Internet speeds for both residential and business customers to up to 50 Megabits per second, with plans to offer 100 Meg speeds by the end of June.
The TV lineup also has expanded considerably in the last two years, along with technological advances like Whole-Home DVR services last year and Watch TV Everywhere, which allows customers to watch certain channels on a variety of Internet-connected devices. It debuted in February.
In 2012, Fidelity upgraded the TV system in Nevada and added 80 new cable channels, including more than 50 high-definition (HD) channels. Seven more HD channels were added in 2013. Local and long distance home phone service were also added at competitive rates.
Fidelity Communications is a family-owned Internet, digital TV and phone company headquartered in Sullivan, Missouri. Fidelity has been providing services in Missouri for nearly 75 years and in Lawton, Oklahoma for the past six years. With the purchase of 14 systems from Cobridge in 2012, Fidelity now provides services to around 60,000 customers in five states.