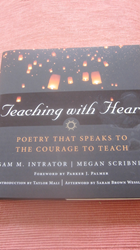 "Teachers describe the vital and creative passion they have for their work."--Megan Scribner
Seattle, WA (PRWEB) June 25, 2014
In this third volume of a series reflecting the work of teachers in classrooms and how it is changing, Megan Scribner and Sam Intrator include ninety teachers musing on the poem of their choice. These editors also have found that teachers view their work differently in 2014 than they did ten years ago when the first volume of the series, Teaching with Fire, was published.
"Mandates and prescriptions at the school and district levels have affected how teachers teach and how they experience the profession," writes Scribner. Many of the poems reflect this shift.
Katie Johnson, elementary teacher in Maine and Washington public schools (now retired), agrees with this perception. Her essay is a reflection on the poem, "The Poet Dreams of the Classroom," by the poet Mary Oliver.
"Mary Oliver captures the frustration which I have often felt, the frustration of being expected to put round children into the square holes of technology," says Johnson.
Johnson is the author of several books, including Doing Words and Red Flags for Primary Teachers.