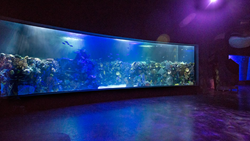 The crystal clear R-Cast® offers guests a subterranean view into a habitat comprised of a native coral and colorful fish.
Grand Junction, Colorado (PRWEB) June 14, 2014
Visitors are now able to explore a new, state-of-the-art aquarium in Mexico City. Aquarium Inbursa, which opened to the public on June 11, is considered to be one of the world's most advanced aquariums. The facility earned this recognition in part by housing an astounding 230 different fauna species for visitors to view – over 3,000 animals in total. Each individual habitat was carefully researched and recreated with cutting-edge technology. Reynolds Polymer Technology supplied custom R-Cast® acrylic in a variety of shapes and sizes for multiple exhibits throughout the aquarium.
To begin the Aquarium Inbursa experience, visitors are taken down to the facilities' lower level which is fittingly designed to simulate the bottom of the ocean floor. The elevators open up to one of the main viewing panels supplied by Reynolds Polymer. This 8-foot tall by 33-foot wide underwater aquarium window was engineered with a gentle 35° arc. Weighing in at over 12,000 pounds, this was the heaviest acrylic panel delivered to the underground aquarium and is responsible for retaining 400,000 gallons of water. The crystal clear R-Cast® offers guests a subterranean view into a habitat comprised of a native coral and colorful fish.
Another attraction that is located at the base of the aquarium is a 21-foot long underwater aquarium tunnel. This custom-cast acrylic tunnel gives guests 180° views of exotic fish and sandbar sharks. Impressively, the strength of the three inch thick R-Cast® acrylic is enough to keep thousands of gallons of water at bay, allowing for visitors to observe the wonders of the carefully designed habitat as though they were a part of it themselves.
In total, those exploring the different layers of the aquarium will travel through 48 exhibits, one of these being the jellyfish encounter. Due to the unique needs of the jellyfish, Reynolds Polymer was challenged with creating a habitat that was both safe for the marine invertebrates and enjoyable for guests. RPT manufactured a seven-and-a-half-foot tall acrylic cylinder display – allowing the jellyfish plenty of room to circulate - and incorporated a dynamic lighting system to offer guests enhanced viewing.
Aquarium Inbursa has been recognized as one of the largest aquariums in Latin America, far surpassing its contenders. In total, the facilities' five tanks hold 1.6 million gallons of ocean water that was brought in from the Mexican state of Veracruz. Future plans call for the aquarium to hold a remarkable 10,000 marine animals belonging to 307 different species.
"Reynolds Polymer is excited to be a part of such a monumental project in Mexico City," said Matt Houlihan, Executive Vice President and Global Director of Sales and Marketing for RPT. "We very much hope that the people of Mexico enjoy this wonderful aquarium. Inbursa is not only outstanding in size and species, but the naturalistic, multilevel design puts it in a class of its own."