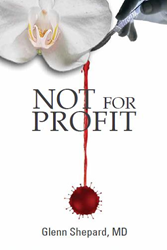 Slick and Intelligent, Not For Profit is a thrill ride of a debut that whisks the reader around the globe. I had a hard time putting it down.- Layton Green, Kindle Bestselling Author of The Dominic Grey Novels
Newport News, VA (PRWEB) June 17, 2014
Mystery House Publishing, Inc. of Newport News, VA is proud to announce the publication of a new medical thriller, "Not For Profit". After more than forty years of active practice as a plastic surgeon, Dr. Glenn Shepard has written a new novel that blows the lid off of not for profit hospitals.
Synopsis of the book:
A prominent surgeon accused of murder and terrorism...
A corrupt healthcare administrator hell-bent on bloody revenge...
A mysterious seductress whose secrets could free the doctor and kill thousands...
A terrorist cell with missiles aimed at a leading hospital in America's Bible Belt...
Not for Profit takes you on an action-packed thrill ride that will have you questioning suspects, motives, and outcomes until the very last page.
Renowned plastic surgeon Dr. Scott James is charged with murder after two bodies are found at his surgery center. Just weeks before the start of his capital murder trial, Dr. James is approached by a beautiful woman claiming she can help him gain information that would prove his innocence.
As James hunts down the evidence that might free him, he faces a barrage of threats to his life and liberty--and makes one chilling discovery after another: corporate corruption. A conspiracy to frame him for murder and for terrorist acts. A secret drone-control operation that takes out targets in Afghanistan and Pakistan. The true identity and intent of his beautiful ally. And a plot to blow up the local hospital and surrounding community.
Dr. Glenn Shepard was raised on a farm in eastern Virginia. He attended the University of Virginia on an academic scholarship and majored in psychology. As an undergraduate, he lettered in wrestling for three years in a row.
Then, he went on to become the only person in UVA history to letter in wrestling again in his sophomore year in medical school. He also was a softball pitcher, recording 14 no hit games in his 12-year college and military career. His team won the UVA championship twice, went twice to the Virginia State Finals, and once participated in the Southeast Regional Army Championship Game.
After completion of med school at UVA, he went to Vanderbilt where he completed his residency in general and cardiovascular surgery. He spent two years in the Army at the Ft. Gordon Army Hospital in Augusta, Georgia and The Second Surgical Hospital in An Khe, Vietnam. While in Vietnam, he wrote his first work of fiction, "Surge," which is on his back burner of works to dig out of the attic and publish, with major revisions, in the future.
He trained in plastic surgery at Duke University, becoming board certified in General Surgery and Plastic surgery. He opened his own Surgery Center in Eastern Virginia where he worked for 23 years, mostly in a solo practice, before joining a large, plastic surgery group.
For 28 years, he founded and directed The Peninsula Cranio-Facial deformities clinic that was staffed by volunteer medical, dental, social services, psychology, and speech pathology experts. The group treated over five hundred patients with cleft lips and palates as well as a variety of deformities of the face and hand.
Shepard founded, funded, and directed the Riverside Microvascular Research Lab, in which he studied the basic science of wound healing, the development of of cleft palates, new techniques in palatal repair, and the regeneration of injured fingernails. He published numerous scientific publications on his work in the lab and clinic.
After the massive earthquake in Haiti in January, 2010, Dr. Shepard joined the Notre Dame Hospital unit in Leogane, Haiti for a 10-day rotation. His empathy for the people and their problems as well as his admiration for the contributions of time and talent from medical personnel from all over the world greatly inspired his second novel, Relief Aid, Haiti.
Dr. Shepard was interviewed and said, "I am a story teller by nature. I spent considerable time honing skills as a writer so people would be entertained by my stories. But in this current book, I deliver my personal feelings about the high cost of medicine and how some hospitals may have used their tax exempt status to compete successfully with private enterprises, take the profits they reap and buy more and more businesses, and build giant, hundreds of million dollar corporations, and demand multi-million dollar salaries for the CEOs, all these things adding to the hospital bills individuals and insurance companies have to pay."
"Not For Profit" is the first novel in the Dr. Scott James Thriller Series. Shepard's second should be out this summer and he is eager to write more in this exciting series.