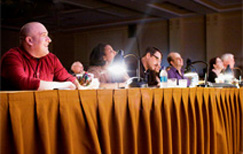 Professional, family-oriented, and first class all the way!
Atlanta, Ga. (PRWEB) June 16, 2014
Over 70 reputable agents, managers and casting directors from around the country are scheduled to take part in the Summer SHINE Conference, July 1-6 at the Gaylord Palms Resort. Both Christian and mainstream media professionals will attend SHINE to watch talent showcases, teach VIP seminars and make connections with performers in one-on-one interviews.
AMTC today announced a few of the industry-professionals that will be attending SHINE this July. Alpha Tyler, agent for BET, has worked as a casting director for nine Tyler Perry films including "Why Did I Get Married Too," and "Madea's Big Happy Family." Joy Pervis (discovered both Dakota and Elle Fanning) is a scout for The Osbrink Agency, Los Angeles and J Pervis Talent, Atlanta. Joy expresses her appreciation for SHINE, "AMTC is the crème de la crème of scouting events! Professional, organized, family oriented, and first class all the way! I am honored to have been affiliated with your organization for over 15 years," she said.
Music producer, recording artist and songwriter Nate Butler will be scouting SHINE as a representative for "America's Got Talent." Nate has contributed to the production of 45 million records sold worldwide and has worked with many multi-platinum artists such as Victoria Beckham, Houston, Christina Milan, JoJo and Aaron Carter.
For models at SHINE, Ford, Wilhelmina, Next and New York Models are just a few of the top international modeling agencies that will be gracing the halls. Erin Lundgren-Scimeca, director of scouting at New York Model Management, speaks about her experience with SHINE, "This is the best run conference, and I will continue to come back. I always find great new faces," she said.
AMTC's SHINE Conference will welcome, for the first time, 1916 Management. Founded in 2013, the company exists as a multimedia entertainment platform and has worked with artists like Rihanna, Maroon 5, JLO, Kanye West and Lana Del Rey. Rising artist Kêta Jo, AMTC grad and Summer SHINE 2014 Guest Star, is also a client with 1916 Management.
AMTC is a fellowship of faith, teaching talented performers what they need to know about the entertainment industry and connecting them to professionals who, if the Lord wills, can create larger opportunities. AMTC's SHINE conference is one of the most unique and exciting ways for up and coming performers to fulfill their dreams.
To learn more about the international SHINE conference and Summer SHINE VIP list, visit http://www.amtcworld.org.