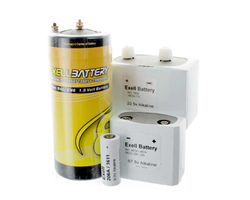 The 457's history lies in the mining industry where it was used in a wide variety of testing equipment.
North Las Vegas, Nevada (PRWEB) June 17, 2014
Exell Battery announces the release of two battery models. The 457/467, and 763 join Exell Battery's line of specialty batteries which includes over 100 models including 763, R40, 206, 175 and 177. These models were discontinued by Eveready and other manufactures a few years ago, leaving millions of devices without a supply of batteries. These hard-to-find batteries power toys, clocks, radios, numerous types of testing equipment. These specialty batteries are used by a wide range of industries including: railroads, aviation, communications, military, medical, mining, film and entertainment to name just a few.
Avel Ureno, Vice President of Exell Battery explains, "When these batteries were originally manufactured they were made with carbon zinc which was the standard at the time. Our team re-engineered the Exell line using alkaline chemistry which offers several advantages including a longer shelf life, improved capacity and the batteries are less likely to leak. We receive phenomenal feedback from our customers. They appreciate the quality and reliability of the Exell Batteries and of course they especially appreciate saving money by keeping their expensive equipment and vintage devices in service."
The Exell Battery line is assembled in the USA (the R40/EN6 model is the only exception).
About BatteriesInAFlash.com, Inc.
BatteriesInAFlash.com, Inc. is the leading online source for batteries of all makes and types, utilizing multi-channel distribution and company websites. In addition to offering a comprehensive brand line up ideal for retail or wholesale, the company also assembles Exell Battery in the US. BatteriesInAFlash.com, Inc. is listed on the 2013 Inc. 5000 list.
###
For more information regarding Exell Battery or need a quote for batteries, please contact Avel Ureno Vice President at 702.248.2423 or email at avel(at)batteriesinaflash(dot)com.