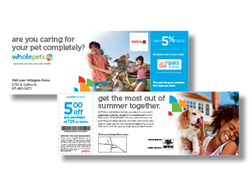 Santa Ana, CA (PRWEB) June 13, 2014
It seems like in this digital age, direct mail as a marketing tool is a quaint reminder of a distant past. Very old school.
But the reality is that digital is far from ideal - emails get ignored, banners don't get clicked - your message does not get through. It's simply not the silver bullet we've all hoped for. The truth is you need a mix to get your brand out there.
That's why we developed Consumer Connect™ mailings.
It's a new spin on saturation mail. Your brand message can be targeted by household income, size and age breaks, down to the carrier route level. It's a far cry from old school direct mail.
Smart marketers are taking advantage of mailing a solo piece, like the high impact, oversized postcard you see here. It can be used in many ways - driving traffic to a Web site on a desktop or tablet, delivering a coupon to be redeemed at a local store or even a QR code that can be used by a mobile device. It's a physical piece that simply can't be deleted or ignored.
Consumer Connect™ mailings are ideal for any brands sold at retail - CPG, apparel, consumer electronics, home improvement and more. Find out how your brand can take advantage of Consumer Connect™.
Contact: Shayne Walters, Synergy Direct Response, (714) 352-8207 or swalters(at)synergydr(dot)com.