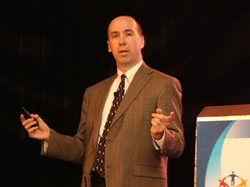 Today's business, political and social climate is changing at such a rapid pace that most individuals and organizations will soon have no alternative but to 'immigrate to the future' using both M2M technology and the IoT if they wish to survive.
Detroit, MN (PRWEB) June 17, 2014
On Tuesday, June 17th, Futurist Jack Uldrich will address the Detroit leg of Verizon Wireless Connected Technology Tour. Following on the heels of several successful keynotes across the U.S. in a variety of industries including agriculture, government and transportation, Uldrich will speak on how the Internet of Things will transform businesses in the coming years.
Uldrich who is a bestselling author and internationally renowned futurist uses a vast array of analogies for his listeners. In one article he focuses on fellow futurist Marina Gorbis' notion of immigrating to the future. He says, "When it comes to business, placing the emphasis on survival—and not simply success—is an important distinction. Because when survival is at stake, people must move quickly and often they can only take the most essential items. Therefore, as you and your organization prepare for the future, I'll ask you a simple question: What would you pack in your trunk?"
Uldrich says some of the most important things to have in today's trunk are the knowledge of the Internet of Things and acquiring some of the latest M2M technology that businesses like Verizon are supplying. "Simply put," says Uldrich, "the power of knowledge fuels smart, strategic decision-making and direction."
In the past year, Uldrich, who is also recognized as a leading expert in the field of change management and unlearning, has addressed dozens of organizations and associations, including MosaicAg, the AMA, Fiatech, the PMA, and the CTAA.
Parties interested in learning more about him, his books, his daily blog or his speaking availability are encouraged to visit his website. Media wishing to know more about either the event or interviewing Jack as a futurist or trend expert can contact Amy Tomczyk at (651) 343.0660.
Uldrich is a renowned global futurist, best-selling author, editor of the monthly newsletter, The Exponential Executive, and host of the award-winning website, http://www.jumpthecurve.net.