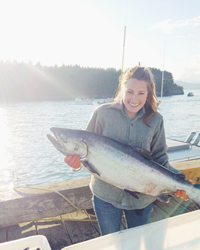 "We are excited to be sharing our beautiful wild salmon with some of the world's foremost foodies." - Nelly Hand
Cordova, AK (PRWEB) June 17, 2014
The Copper River/Prince William Sound Marketing Association is pleased to announce that they will be exhibiting at the Food & Wine Classic in Aspen, Colorado from June 20th-22nd 2014. The Classic brings together the world's foremost authorities on wine and food, featuring seminars, tastings, cooking demonstrations and more.
The Association's new executive director, Nelly Hand, will be there to meet with guests. Hand, who is married to a Copper River fisherman and whose father is a longtime salmon fisherman as well, grew up in the heart of this artisan American fishery and is excited to be sharing insights, updates, tidbits and tips with astute chefs, food lovers, culinary writers, and cooks.
The Copper River booth will be located in the Grand Tasting Tent, and the event organizers anticipate that Hand will be serving about 300 samples of smoked Copper River sockeye per half hour or a total of 5500 servings over the course of the event. Hand explains, "We are really proud to be exhibiting at the Classic. The Copper River season is going strong. Overall, the weather has been great and the fishermen have had a lot of fishing time with generous openers. This, of course, is a good thing for the fishermen, for fish markets and salmon lovers around the country!" As of June 12th, Copper River fishermen have harvested a total of 8,700 king salmon and 1.26 million sockeye salmon. The season for sockeye will continue through July and Copper River coho will be harvested in the fall.
Hand says, "If you are attending the Classic, please stop by our booth, where we will have samples and lots of information. Our wild sustainable American fishery is carefully managed by the Alaska Department of Fish and Game as mandated by the Alaska State Constitution. We are excited to be sharing our beautiful wild salmon with some of the world's foremost foodies."
For additional information, contact Nelly Hand, Executive Director
Copper River/PWS Marketing Association
Box 199, Cordova, AK 99574 :: t: 907.424.3459 :: f: 907.424.3430
http://www.copperriversalmon.org
http://www.soundsalmon.org
Copper River/Prince William Sound Marketing