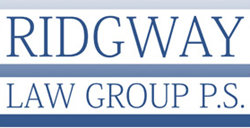 Seattle, WA (PRWEB) June 13, 2014
Attorney Ridgway has been honored with Super Lawyers® recognition not only for the 2012-2013 year but also for 2013-2014. This is an impressive accomplishment in light of the rigorous selection process for Super Lawyers®.
The process of selection is done on a state-by-state basis and it has multiple phases. The three phases are:
•Independent research
•Peer nominations
•Peer evaluations
Each candidate is evaluated on 12 different factors mostly relating to their legal and professional achievements. Candidates are then recognized and evaluated by peers who work in their particular practice area.
Attorneys are not able to submit themselves for inclusion in Super Lawyers®; rather they must be nominated by others who practice in that state. Typically of all the nominations submitted into the pool, only 5% of attorneys are actually selected to be in the Super Lawyers® List. The list is then used as a tool and trusted guide in determining which attorneys to hire and for legal counsel.
Being selected for inclusion for the second year in a row shows that Attorney Sheila Ridgway has a high-degree of peer recognition as well as notable achievements. For two decades, Sheila Ridgway's practice has focused on Probate litigation, elder law, estate litigation and TEDRA. She is a licensed lawyer in both Oregon and Washington and she is frequently asked to speak at various probate, estate and trust litigation seminars.
Sheila Ridgway is the founding attorney at Ridgway Law Group, P.S., a Seattle based law firm, and she maintains a superb Avvo rating. If you would like to learn more about Attorney Sheila Ridgway you can visit her attorney profile page. You can also speak to her regarding your case by contacting the firm for a confidential consultation.