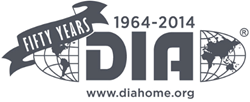 SAN DIEGO (PRWEB) June 14, 2014
Game-changing patient engagement in the drug development process, the current U.S. drug regulatory landscape and bioinnovation are among the hot topics on Monday, June 16, at the DIA 2014 50th Annual Meeting at the San Diego Convention Center. A new DIA event, The Walking Gallery, will bring life to patient stories through art.
Patient Voice in Drug Development
At the opening plenary session, patient engagement and research pioneer Jamie Heywood of Boston will share his groundbreaking platform, PatientsLikeMe, which allows patients to connect with others with the same condition to track symptoms and share their experiences. To date, more than 250,000 patients are members of PatientsLikeMe, co-founded by Heywood after his brother was diagnosed with amyotrophic lateral sclerosis (also known as Lou Gehrig's disease). Biotechnology company Genentech recently partnered with PatientsLikeMe to explore ways to research patients' real-world experiences with disease and treatment. Heywood will be available for media interviews. The session will be at 2:30 p.m. in Ballroom 20.
Heywood will join DIA Global Chief Executive Barbara L. Kunz and patient advocate and artist Regina Holliday for a news conference, "How Patients Will Transform Health Care," about the growing influence of patients in accelerating the innovation of drug therapies. Panelists will discuss the current state and future of patient-centered drug development, then take questions from reporters. The 30-minute session starts at 11:45 a.m. in Room 21.
A forum on "Bringing the Patient Voice to Clinical Development" will identify areas of clinical development that can benefit from patient insight and provide examples of collaboration between patient advocates and other arenas of drug development. Industry experts will join Bonnie J. Addario, a lung cancer survivor and founder of the Addario Lung Cancer Foundation, to discuss incorporating patient perspectives in clinical trials. Robert Gillespie, board chairman of the Association of Black Cardiologists, will address ways to recruit and sustain the involvement of a diverse patient population. The session will be at 8:30 a.m. in Room 3.
Holliday, a patient advocate and artist, will be hosting an event new to DIA, The Walking Gallery. The event, which starts during the opening reception at 4 p.m. in the Exhibit Hall, aims to bring life to patient stories through painted murals on jackets worn by patient advocates, survivors of disease, caregivers and those who have lost loved ones to illness.
Global Drug Regulation
Food and Drug Administration (FDA) Commissioner Margaret A. Hamburg and her counterparts from Europe, Japan and Canada will discuss "New Approaches to International Collaboration Between Regulators," which will examine the current challenges facing international regulators and their effect on the pharmaceutical industry and patients, including emerging international regulatory initiatives. As the global drug market continues to expand at a rapid pace, the U.S. is increasing the number of FDA regulators overseas while downsizing resources at home. The first session will be at 8:30 a.m. and the second session will follow at 11 a.m., both in Room 6F.
Bioinnovation
A session on the "FDA Regulation of Therapeutic Products Derived From Human Stem Cells: Successfully Navigating the Regulatory Hurdles" will address how the science of human stem cell research poses unique challenges to drug and product development. The forum will feature leaders in research discussing the regulatory framework that governs stem cell products and ways to improve interactions with the FDA to bring the therapeutics to market. The session will be at 11 a.m. in Room 11B.
"Pioneering Regenerative Medicine: Trends in Regulations for New Therapy" will feature Shinji Miyake, professor of clinical research at the Keio University School of Medicine in Japan, and other experts introducing the world's first clinical research of induced pluripotent stem cell products. The discussion will review updated regulatory guidance to bring regenerative medicine to patients who need healthy tissue or organs. The session will be at 8:30 a.m. in Room 7B.
ABOUT DIA: DIA is the global connector in the life sciences product development process. Our association of more than 18,000 members builds productive relationships by bringing together regulators, innovators and influencers to exchange knowledge and collaborate in a neutral setting. DIA's network creates unparalleled opportunities for the exchange of knowledge and has the interdisciplinary experience to prepare for future developments. DIA is an independent, nonprofit organization with its global center in Washington, D.C., USA, and regional offices covering North and South America (Horsham, Pa., USA); Europe, North Africa and the Middle East (Basel, Switzerland); and Japan (Tokyo), India (Mumbai) and China (Beijing). For more information, visit http://www.diahome.org.
ABOUT DIA's 2014 50th ANNUAL MEETING: Celebrate the Past – Invent the Future is the largest multidisciplinary event that brings together a community of life sciences professionals at all levels and across all disciplines involved in the discovery, development and life cycle management of medical products. The meeting aims to foster innovation that will lead to the development of safe and effective medical products and therapies for patients. For more information, visit http://www.diahome.org/dia2014.