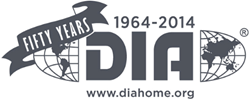 SAN DIEGO (PRWEB) June 14, 2014
Examine the changing landscape for bioinnovation, the impact of "big data" on vital research partnerships, an initiative that pioneers patients' access to data, and the growth of human tissue models on microchips on Tuesday, June 17, at the DIA 2014 50th Annual Meeting at the San Diego Convention Center. In addition, the world's foremost regulators will come together that day to discuss fostering globalization in drug regulatory guidance.
New Bioinnovation Markets and Breakthroughs
Two forums on "The Changing Landscape for Bioinnovation: The Emergence of Small Pharma, Strategic Alliances, and Precision Medicine" will discuss how the industry landscape is evolving from one dominated by large pharmaceutical companies and markets to one focusing on smaller specialty companies and targeted medicines. The first session will be at 8 a.m. and the second session will follow at 10:30 a.m., both in Room 10.
"Organs on a Chip: The Future of Efficacy and Safety Testing" will be led by Barry Mangum, director of clinical pharmacology at the Duke Clinical Research Unit. Physician, scientist and inventor Daniel Kraft will join Keith Murphy, chairman and CEO of Organovo, and Christopher C.W. Hughes, professor and chairman of molecular biology and biochemistry for the University of California, Irvine, to discuss the progress in research that could transform the science of health care. As large investments are fueling innovative research using models of human organ tissue on microchips to test drug efficacy, experts will discuss the challenges, such as the source of tissues, and the interpretation of findings from microchip research into the potential effects on humans. The session will be at 1:30 p.m. in Room 6B.
Partnerships Enhanced by Big Data
"Big Data, Big Impact: New Levels of Strategic Partnerships Between Sponsors-CROs" will bring together those working in contract research organizations (CROs) and their sponsor partners to explore the benefits of increased collaboration within today's data-driven environment — including leveraging new discovery technologies, enhancing the efficiency of clinical trials and paving the way for clinical breakthroughs. The session will be at 8 a.m. in Room 3.
Patient Access to Data
A session on "Enabling Participants' Access to the Electronic Clinical Trial Data: The Blue Button Project" will highlight Blue Button technology, which allows patients to access their medical records electronically to share with health care professionals. Regina Holliday will be sharing her story as a patient advocate and artist whose husband struggled to access his medical records while battling cancer. The session will be held at 1:30 p.m. in Room 30CD.
Top Worldwide Regulators
Regulators from around the world will offer insight about the regulatory landscape in their home countries during town hall sessions.
•The "Pharmaceuticals and Medical Devices Agency (PMDA) Town Hall" will feature Tatsuya Kondo, chief executive of Japan's PMDA, and other PMDA leaders providing a regulatory update. The session will be held at 8 a.m. in Room 6F.
•The "CDRH Town Hall" will feature a panel of experts discussing a new Food and Drug Administration (FDA) initiative, Case for Quality, which promotes device quality in the global marketplace. Jeffrey E. Shuren, director of the FDA's Center for Devices and Radiological Health (CDRH), will examine the state of his agency and its vision for the future. The session will be held at 8 a.m. in Room 11A.
•Guido Rasi, executive director of the European Medicines Agency, will lead the "Europe Town Hall." This session will examine issues and challenges facing regulators and industry leaders in Europe, where new initiatives to facilitate regulatory procedures were recently developed. The session will be held at 10:30 a.m. in Room 6F.
•The "Asia Town Hall" will bring together representatives from Japan, Singapore and Taiwan to discuss the status and direction of pharmaceutical regulations in their countries. The session will feature insights from Nobumasa Nakashima of PMDA; Ming-kung Yeh, director-general of the Taiwan Food and Drug Administration; and Raymond S.B. Chua, group director of the Health Products Regulation Group in the Health Sciences Authority of Singapore. The session will be held at 1:30 p.m. in Room 30AB.
•The "FDA – Health Canada Regulatory Cooperation Council (RCC) Town Hall" will highlight the lessons learned under the four RCC initiatives on the electronic submission gateway and good manufacturing practices. Leslie Ball, the FDA's assistant commissioner for international programs, will lead the session, to be held at 3:30 p.m. in Room 11A.
ABOUT DIA: DIA is the global connector in the life sciences product development process. Our association of more than 18,000 members builds productive relationships by bringing together regulators, innovators and influencers to exchange knowledge and collaborate in a neutral setting. DIA's network creates unparalleled opportunities for the exchange of knowledge and has the interdisciplinary experience to prepare for future developments. DIA is an independent, nonprofit organization with its global center in Washington, D.C., USA, and regional offices covering North and South America (Horsham, Pa., USA); Europe, North Africa and the Middle East (Basel, Switzerland); and Japan (Tokyo), India (Mumbai) and China (Beijing). For more information, visit http://www.diahome.org.
ABOUT DIA's 2014 50th ANNUAL MEETING: Celebrate the Past – Invent the Future is the largest multidisciplinary event that brings together a community of life sciences professionals at all levels and across all disciplines involved in the discovery, development and life cycle management of medical products. The meeting aims to foster innovation that will lead to the development of safe and effective medical products and therapies for patients. For more information, visit http://www.diahome.org/dia2014.