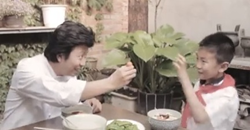 Beijing, CHINA (PRWEB) June 13, 2014
The Opposite House dedicates a short film to dads who love to eat. Their in-house restaurant, Jing Yaa Tang presents, "Taste the Past Today."
The film captures the essence of the Chinese culture: it is a very traditional and polite gesture for children and young people to ask senior family members to begin a family meal by eating first.
Show how much you care by sharing this video with your dad, click for the video here.
About The Opposite House
The Opposite House is located in Taikoo Li Sanlitun — a vibrant new open-plan shopping, dining and entertainment destination developed by Swire Properties. The hotel's 99 guest studios include 9 spacious suites and a penthouse duplex with a 240 sqm roof terrace. More than half of all the studios are over 70 sqm and all are strikingly simple with natural wooden floors and subtle touches of Chinese décor.
About Swire Hotels
Swire Hotels has been created to manage intriguing urban hotels in Hong Kong, Mainland China and the United Kingdom, providing a characterful experience for travelers who seek individuality, style and personalized service.
The Opposite House, Beijing, opened in 2008 and was followed by The Upper House, above Pacific Place, Hong Kong, in October 2009. The Temple House will open in Q4, 2014 in Chengdu.
Swire Hotels opened a 345-room lifestyle hotel called EAST, Hong Kong in Hong Kong's Island East, in January 2010. EAST, Beijing with 369 rooms, located within INDIGO in Jiangtai, opened in September 2012. EAST, Miami, offering 263 rooms and 89 serviced apartments, will open in Brickell City Centre in Q4 2015.
Swire Hotels has launched a new collection of locally inspired and stylish hotels in the heart of great British towns and cities called Chapter Hotels. The first hotel in the collection, The Montpellier Chapter, Cheltenham opened in 2010. The second hotel, The Magdalen Chapter, Exeter opened in June 2012.
# # #