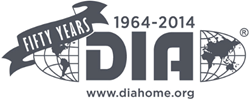 SAN DIEGO (PRWEB) June 14, 2014
Patient perspective in clinical trials, efforts of the Food and Drug Administration (FDA) to increase the number of regulators overseas, the emerging practice of risk-based monitoring in clinical trials, and challenges in orphan drug regulation will be discussed Wednesday, June 18, at the DIA 2014 50th Annual Meeting at the San Diego Convention Center.
Patient Perspective to Drive Enrollment in Clinical Trials
"The Patient Point-of-View: An Unrehearsed but Revealing Conversation to Rectify Patient Enrollment" will feature the perspective of T.J. Sharpe, a patient advocate enrolled in a second clinical trial to fight his stage 4 melanoma. The panel discussion will examine poor enrollment, what patients consider when deciding whether to participate and remain in clinical trials and efforts to enroll patients in trials. Sharpe documents his experience on his blog, "Patient #1," at philly.com. The session is at 10:30 a.m. in Room 9.
Growth in Overseas Posts Discussed by FDA International Directors
The U.S. is increasing the number of FDA regulators overseas while downsizing resources at home as the global drug market rapidly expands. Christopher Hickey, director of the FDA in China, will discuss the changes during "Challenges and Opportunities Facing FDA's International Posts" at 1:30 p.m. in Room 11B.
Risk-Based Monitoring's Impact on Research
Risk-based monitoring — the assessment of risks before, during and after clinical trials — is gaining traction as a model to enhance patient safety while saving time and money in studies. In the "Risk-Based Monitoring Symposium," industry experts will offer insights including a look at the changing role that clinical research associates play in clinical trials and practical approaches to building a risk-based program. This session is at 10:30 a.m. in Room 2.
Regulations for Rare-Disease Therapies
The "Regulatory Challenges for Orphan Medicines" session will focus on the regulatory environment and trends for orphan medicinal products, including how companies can use orphan drug legislation in Europe and the U.S. to support the development of these products in global markets. The discussion is at 3:30 p.m. in Room 32AB.
ABOUT DIA: DIA is the global connector in the life sciences product development process. Our association of more than 18,000 members builds productive relationships by bringing together regulators, innovators and influencers to exchange knowledge and collaborate in a neutral setting. DIA's network creates unparalleled opportunities for the exchange of knowledge and has the interdisciplinary experience to prepare for future developments. DIA is an independent, nonprofit organization with its global center in Washington, D.C., USA, and regional offices covering North and South America (Horsham, Pa., USA); Europe, North Africa and the Middle East (Basel, Switzerland); and Japan (Tokyo), India (Mumbai) and China (Beijing). For more information, visit http://www.diahome.org.
ABOUT DIA's 2014 50th ANNUAL MEETING: Celebrate the Past – Invent the Future is the largest multidisciplinary event that brings together a community of life sciences professionals at all levels and across all disciplines involved in the discovery, development and life cycle management of medical products. The meeting aims to foster innovation that will lead to the development of safe and effective medical products and therapies for patients. For more information, visit http://www.diahome.org/dia2014.