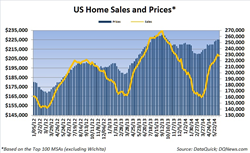 Chicago, IL (PRWEB) June 13, 2014
Weekly home sales took a breather recently as reflected in Thursday's "National Home Sales Snapshot" from DQnews.com Peoples Home Equity was not surprised in the stall as home sales had increased for 10 consecutive weeks.
As announced on Thursday, June 12th, home sales declined -0.9% week over week, meanwhile median home prices remained unchanged. Home sales are now just -3.4% below that of June 2013, when a fall from just -2.8% during the week prior. The average number of sales in the past 30 days, 227,956, remained -32.8% below its cycle high of 339,669 in June 2006. Median home prices remained 5.6% above their June 2013 level and 26.8% above June 2011. As for their cycle high median home prices are only -18.18% below their June 2006 high.
Peoples Home Equity thinks this small weekly decline is a simple rest before sales increase further over the next few weeks. The lender's sentiment is the same regarding median home prices as inventories are still shy of demand.
Peoples Home Equity has been quite open about weekly home sale and price results from Dqnews.com. The lender finds DQnew.com's "National Home Sales Snapshot" quite useful, especially as a leading indicator. Readers should routinely check this release to see where the housing market may be headed next when deciding with lock in or float a mortgage rate.
Of all home sales and price indicators, such as: new home sales, pending home sales, home prices indices, DQnews.com's weekly snapshot is simply the best in terms of what is happening most up to date. Most housing indicators are lagging by at least a month. Peoples Home Equity prides itself on being the a leading lender in the mortgage market. Loan officers at any of Peoples Home Equity's branches have good knowledge the housing market in their area which bodes confidence in prospective loan applicants.
If interested in securing a competitive, lower rate mortgage, consider speaking with a Peoples Home Equity loan officer today details at: 262-563-4026.