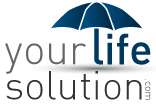 Chicago, IL (PRWEB) June 14, 2014
YourLifeSolution.com, a service which provides instantaneous online life insurance quotes without requiring that a consumer enter any personal information, is today publishing an infographic flowchart that aids consumers to decide what is the best life insurance option for them. "It's an incredibly simple way to parse through the different concepts in life insurance and figure out what it the best life insurance option for a specific consumer, and it takes only about a minute to follow through the flowchart. This eliminates one of the most common hurdles to getting a life insurance policy in place," said Eric Smith, the founder and independent life insurance agent behind YourLifeSolution.com.
The infographic is located here: http://visual.ly/what-type-life-insurance-best-me-yourlifesolutioncom.
YourLifeSolution.com's future plans involve syndicating an infographic that will show the rates for life insurance with competing household names including State Farm, American Family, Farmers, Prudential, and several others for identical term life insurance products.
Consumers interested in getting more information about competing life insurance rates are encouraged to visit YourLifeSolution.com, or call 888.374.2764.