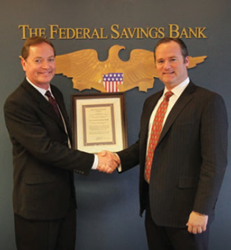 5.4 percent of Americans relocated in 2013
Chicago, IL (PRWEB) June 16, 2014
The Federal Savings Bank, a veteran owned lender knows that when considering a new home purchase, there are many possible reasons to pack up and move.
Sometimes a combination of factors spur the urge to relocate, and other times there's one nagging motivation to get up and go. Recent data from a June 5th U.S. Census Bureau report revealed the most common reasons why Americans moved in 2013. In that year, 36 million people one year and older in the U.S. moved. The Reason for Moving: 2012 to 2013 report found that while fewer people relocated to simply have a new home or apartment, more people sought shorter commutes to work and more affordable housing.
Compared to 3.1 percent of movers in 1999, 5.4 percent of Americans relocated in 2013 to have a shorter trip to their jobs. In regard to finding more affordable housing, 6.0 percent said they moved for cheaper digs in 1999, compared to 8.3 percent in 2013. Meanwhile, the share of Americans relocating for a new space dropped from 20.8 percent to 14.8 percent over the same span.
A further analysis of the data
In total, the Census Bureau identified 19 reasons why people wanted to move. To provide an additional perspective on the data, these motivations were grouped into four categories: housing-, job- or family-related reasons or other motivations. The reasons related to family included a change in marital status or establishing a household.
Among the four dimensions, housing-related reasons grabbed the biggest share, netting 48 percent of Americans who moved in 2013. This reason was followed by family-related motivations (30 percent), job-related reasons (19 percent) and other causes (2 percent).
The focus on more affordable housing is not surprising, as multiple reports have confirmed that home prices continue to rise although at a slower pace compared to the start of the housing recovery. Rent costs are also increasing, sometimes at a faster rate than the costs of homeownership, causing some potential first-time home buyers to consider whether owning a home is cheaper. Some reports have shown that this is so while rental prices continue to be spurred on by high demand.
Luckily, mortgage rates are at record lows, providing potential homeowners with a chance for low-cost financing. The only caveat is that tight inventory remains a problem across the country.
Contact the Federal Savings Bank for information about low cost mortgage options.